Sophie – Musical Walkabout Acts | UK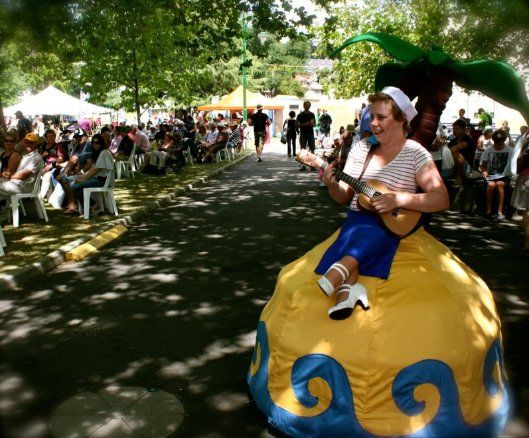 Sophie is a talented and versatile performer based in Cumbria. She can entertain at your event dressed as a tropical island playing ukelele and singing or she can transform into a grumpy singing sunflower! Sophie brings sunshine, laughter and intrigue to all she meets. The acts are suitable for indoor and outdoor events, festivals, corporate parties and summer events.
No Woman is an Island
A tiny tropical paradise drifts through the sea of people. Lazing on the golden sand under the shade of a palm, this little lady plays her ukulele serenading the dashing sailors as they pass by & singing sweet melodies to charm the fish out of the water.
The Island is built off Sophie's waist, with false legs delicately crossed to create a trick of perspective that has even grown-ups double thinking to figure it out. Sophie sings songs including "Rescue Me" "Dream a Little Dream", "I Wanna Be Loved By You", "Leaning on a Lamp Post" (changed to "Leaning On a Palm Tree"), "Blue Moon" and more!
At any event, this act has people smiling when they see the island in the distance, laughing when they meet her up close and humming her melodies as they pass on their way. Adults enjoy the whimsy and kids are excited at the possibility of an island floating by them on dry land.
Petal
A bright and colourful floral display can be seen huffing and puffing its way through the crowds. This is a giant singing sunflower, with an attitude problem. Amusing children and adults alike, they stop, they notice the button and press it. Sophie sings cheerfully, dancing along in her pot but come the end of the song, her disgruntled disposition takes over and she grumbles along on her way.
Technical Specification:
Sophie will require at least 2m x 2m space for dressing.
Length of Performance:
Sophie usually performs 3 x 30 or 2 x 45 minute walkabout sets.
Previous Clients Include:
Jambooree Arts
Invisible Circus
Tartan Hearts Festival
Swamp
Arundel Fringe
Shambala
Sol Fest
Glastonbury
Canterbury County Council
Bradford Equity Partnership
Photos of Sophie