Sneaky Security Guards – Magic & Comedy Act | UK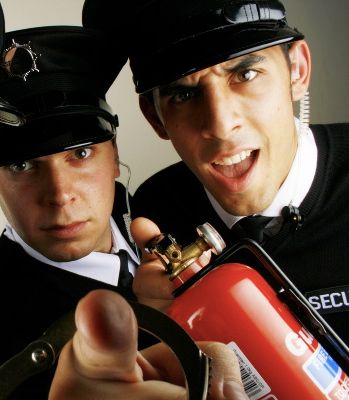 Under the guise of security guards this highly skilled act utilises comedy pick pocketing, hi-tech gadgetry and the dexterous art of magic.
The Security Guards take advantage of their high status and perform miracles on your unsuspecting guests. As your guests enter, they will be put through a brief stop and search where 10ft pool cues are pulled out of a ladies hand bags, gentlemen's watches and wallets appear in their friends pockets, and finger rings are examined to check they are not stolen ,when suddenly their ring vanishes from site and appears in another security guards back pocket linked to a hook in a wallet!
Standard Length of Performance: 1.5 hours.
Testimonials:
"My watch and tie were suddenly gone and incredibly appeared in my wife's handbag! One security guard was demonstrating counterfeit money, borrowed my fiver and visibly turned it into a £50 note!"
- Private Client
"The 2 guys were a great success. Greeting the guests was hilarious and their magic when they mingled afterwards was fantastic and have had loads of compliments. Thank them for helping to create a great party."
- Private Client (via Contraband)
"We had great feedback from all of the entertainers. All arrived punctually and were extremely professional. Sneaky Guards – were entertaining and very clever in their craft. Guests were shocked at what they found!....Many people came up to me afterwards and said "where did you find these guys?" Please pass on my thanks to one and all of the above."
- Vision XS Ltd (via Contraband)
Photos of Sneaky Security Guards