Snakey Sue – Snake Handler | UK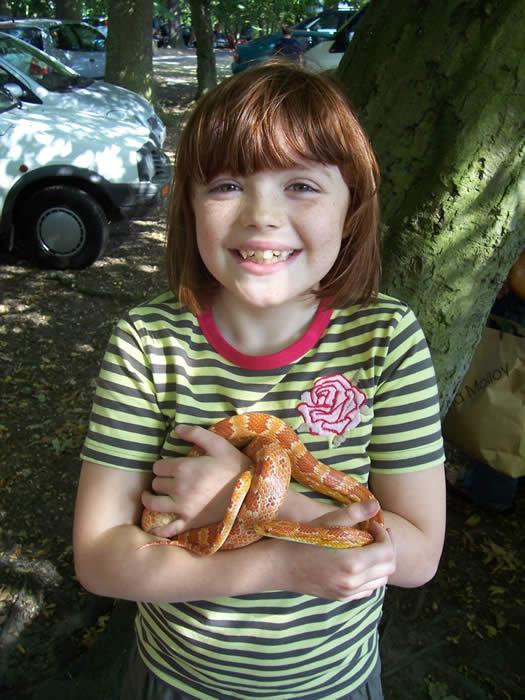 Snakey Sue
If you are looking for a Snake Charmer, Sue and her snakes are extremely charming. Sue has kept snakes for 16 years, having rescued homeless snakes for 14 years and as an experienced snake handler can bring up to 12 snakes alone and with the help of assistants, up to 16 snakes for fun-days and teambuilding events.
She can also provide an unforgettable educational experience as a children's entertainer, bringing 4 to 12 snakes of varying sizes. The snakes that Sue brings are given so much TLC that they enjoy the stimulation they get from going out and mixing with people.
Snakes are particularly good for special needs as they are tolerant and have a calming influence.
Invite Snakey Sue & her friends to your school or fete. For a long time, snakes have been extremely misunderstood animals; they have had undeservedly bad press and are the most inoffensive of creatures. Snakey Sue would like to address this imbalance by introducing children and adults alike to "Snakes".
Standard Length of Perfomance:
The performance can be between 1,5 and 4 hours.
Testimonials:
"I would just like to thank you for the wonderful presentations that you put on for the children. They are still buzzing about the snakes days later! Several children want snakes as pets now so I don't know what we have started. However the experience was really valuable for the children (and some staff) as your visit has dispelled some of the myths about snakes. The children also remembered a lot of what you told them… I will certainly recommend you to teaching colleagues in other schools."
– Ilford Jewish Primary School
" Thank you for spending time with us. Your visit enriched our curriculum theme ten fold. It was a real treat to be able to raise the children's awareness of snakes by having such a hands on experience with theses wonderful gentle creatures. I cannot recommend you too highly. I felt that you pitched your 'display' perfectly for our age groups and, as such, it was a fantastic learning opportunity that we fully intend to repeat at a later date. I only hope that other schools and nurseries are fortunate enough to share in a 'snakey Sue' visit. Fantastic!!!"
– Stepping Stone PreSchool
"Our pupils enjoyed your presentations as part of our environmental study week. The children found out lots of interesting information about snakes, their life cycle, feeding patterns and habitat. The highlight for all our classes was the opportunity to touch and hold the snakes you brought to show us. You provided a memorable moment in an enjoyable week."
– Newport Infant School
"Snakey Sue, thanks for three great weeks – it was really great. From all the staff at "Fun Movement"
– Fun Movement Special Needs Service
"A big thank you, everyone thoroughly enjoyed the party and the snakes were amazing. The party has been the talk of school. Hope to see you very soon."
– Bhminder
"I would like to say many thanks to you and your assistant for helping to make our family day so exciting. We have had so many people mention how much fun it was to see and play with the snakes. Once again, thank you for your services and hope we can do business again."
– DLA
"Thanks for a fantastic party, all the kids and grown ups loved it. I am a snake convert! I've already recommended you to a friend at work who loved the sound of snakes for her son."
– Private Client
Previous Clients Include:
Nell McAndrew
Granada
Anglia
Sky
Cable Live TV
UK Living
BBC
Eastenders
Channel 4
Channel 5
ITV
Golden Oryx
Meridian Hotel
Photos of Snakey Sue