Sarah – Silhouette Artist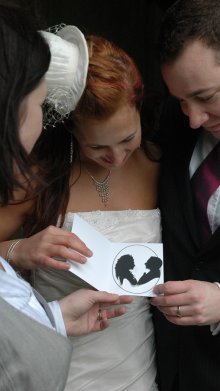 Internationally renowned Silhouette Sarah is truly a cut above the rest and will wow everyone as she takes to the floor with this unique art form.
Each silhouette is beautifully executed using nothing more than specialised scissors and black paper. Sarah produces flattering silhouette profiles in only a matter of minutes as part of a mingle n' mingle entertainment which gets the party in full swing. It's a great ice breaker and even the coyest of guests will be demanding to have one. What ever the theme, Sarah can be tailored to suit your event.
Silhouettes are a stylish memento of your function and will leave an ever lasting impression. This is why there is also potential to place a special message or logo inside the mount card which will be cherished for a life time.
Sarah has an extensive background in all types of art; her main specialisation has always been portraiture. Sarah now belongs to the American paper cutters guild. She has been performing the art of silhouettes at numerous functions from corporate to weddings, festivals, charity do's and promotional campaigns across the country and internationally for over five years.
Silhouette art is the cutting edge of entertainment and a must have on anyone's party list. A silhouette is a must have gift that can be available to the discerning party host. It is sophisticated, entertaining and most organisers and clients will have not have seen this unique art form before. Each silhouette gives a flattering likeness of the guest and is given as a keep-sake of the special occasion. The art is fast paced so everyone can experience it first hand.
This is a beautiful and elegant art form that never fails to surprise and impress, and the artist talks and entertains your guests at the same time. Getting the guests to have a go if they are brave enough!
A 1-3 hours performance usually suits every occasion; however it is possible to book a full day for promotional stands, fun days, fairs etc. The approximate numbers of silhouettes cut in these times is given below:
Duration: No of silhouettes
1 hour: Approx 25 silhouettes
2 hours: Approx 45 silhouettes
3 hours: Approx 65 silhouettes
Costumes Available Include:
Victorian
Black dress
Cocktail dress
Sparkley dress for Hollywood
Jessica Rabbit dress
More costumes to come…. Edweena scissorhands dress!
Testimonials:
"Thoroughly impressed!"
– Leapfrog International Ltd
"Thank you for such a professional and entertaining day. All our visitors commented on such an unusual event. We still have our Silhouette Cards in Pride of Place on our Mantel Piece."
– Masonic Dinner
"Just a thank you for your attendance at our Daughters Wedding. Your Costume and friendly attitude enhanced the day for all. The Wedding Book you created for people to sign their names was an inspiration which I am sure will be treasured for years to come."
– Private Client
"She runs away with your shadow!"
– The Hindu Times
"Wow That is amazing! I have never seen this before and I have to have one!"
– Demi Moore
"Sarah is very talented, we were really pleased with her and wouldn't hesitate to use her again… Very skilful!"
– Amplitude AV Services Ltd
"Thanks so much for the email – the event was spectacular and all of your acts were fantastic. I wouldn't hesitate to recommend them to other event organisers. It was a truly special and memorable evening."
– Private Client (via Contraband)
Previous Clients Include:
National Portrait Gallery
Shopper Stop – India
Oracle Software
Dutchess of Kent Charity
Princess Beatrix's 18th Birthday Party at Windsor Castle
The IVCA Awards
Royal Heritage Parks
The House of Commons
WHSmith
Harrods
The National Autistic Society
Prince Charles Christmas Party at St James Palace
Dawn French and Lenny Henry
Demi Moore
Sarah is a silhouette artist in Berkshire, perfect for wedding reception entertainment, civil ceremony entertainment, civil partnership entertainment, christmas party entertainment private parties, birthday party entertainment, family party entertainment, party entertainment, themed party entertainment, special events entertainment.
Photos of Sarah
Book Sarah
Want to book a performer, or just find out more? Give us a call on +44 (0)208 8291140 or use our online contact form via the button below.