Ronna & Beverly | Famous Chat Show Comedians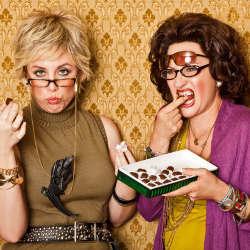 Ronna and Beverly
Hiring celebrities to endorse your brand, service or event is very simple. Contraband is the UK's top booking agent, with friendly, experienced account managers who guarantee you the best deal possible.
Ronna and Beverly are available to book for a variety of corporate events. We work in direct association with their representative.
The characters Ronna and Beverly are two fifty-something Jewish mothers (created and played by thirty-something US comedians Jamie Denbo and Jessica Chaffin) who host the hilarious and raucous self-titled live chat show Ronna & Beverly. Based around the format of a self-help chat show, they interview celebrity guests live on stage, give pushy advice and hawk their self-help book for divorcees You'll Do A Little Better Next Time.
In December 2009 the show was picked up for a comedy pilot which aired on the US SHOWTIME network.  Ronna and Beverly's live chat show was broadcast on Sky Atlantic in autumn 2012 by Hat Trick. Guests included Jon Hamm, Charles Dance, David Walliams, Will Arnett & Sue Perkins.
While being an established and well-loved live act in LA at The Upright Citizen's Brigade Theatre for many years now, Ronna and Beverly have turned their sights on the UK. Fresh from a hugely successful Edinburgh run, America's favourite Jewish mothers took over Soho Theatre in early 2011. Past guests on the show include Matthew Perry, Russel Brand, Chris O'Dowd, Simon Lucas and more…you never know who'll turn up! They returned to Soho Theatre in June 2013 with guests including Natalie Dormer from Game of Thrones, and Allen Leech from Downton Abbey.
Ronna and Beverly are available to hire as comedians and as hosts or comperes for events and awards shows. Contraband works in association with their direct representative.
Testimonials
'Relentlessly Entertaining'
– **** Metro
'The clucking, bullying, bickering characters are irresistible'
– The Guardian
'It really is a joy…We haven't seen the last of Ronna and Beverly. This is a very good thing.'
– ***** Mirror Online
'The two have taken the chat show to a place it has never been before and from which, quite frankly, it should never bother returning.'
– **** The Scotsman
'What gives the show an edge is that the ladies engage in a discreet bout of bickering and one-upmanship… The back biting never stops…They chatter, but not a word is wasted.'
– **** The Times (for Live at The Soho Theatre, 2010/2011)
'Much of the attraction comes from the brilliant character comedy of the two co-hosts, whose bickering, bullying and awful attempts at marriage guidance are raucously funny.'
– The Guardian (for Live at The Soho Theatre, 2010/2011)
Photos of Ronna and Beverly
Book Ronna and Beverly
Want to book a performer, or just find out more? Give us a call on +44 (0)208 8291140 or use our online contact form via the button below.