The Prat Brothers – Various Comedy Acts | UK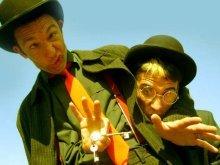 The Prat Brothers
From the moment The Prat Brothers step out the audience will be intrigued by their quick pace, utter stupidity and clowning around.
Acts Available Include:
Roamin' Cases:
These two intriguing characters are armed with 1960's suitcases, packed to the brim with countless amounts of clowning routines and foolish antics. Anything can happen when Kyle and Joel are roamin', whether it's an unforgettable thirty seconds or a tummy tickling ten minutes this is on the spot entertainment! This act includes magic, juggling, puppetry, comedy and a whole load more!
Fairy Catchers:
Carrying the secure knowledge that 'the little folk' exist these two timeless travellers will take you into a world which all too many have forgotten. From the bottom of your garden to underneath your pillow… it's fairies and they are everywhere! The Fairy Catchers will grab your imagination and take you on a flight of fantasy or perhaps, just maybe show you that fairies are in fact anything but imaginary. Meet a fairy, see the evidence move under your nose, marvel at the artifacts and let the stories absorb you once again.
This act also works well as a lights out/late night walk about as it is performed with lights/orbs.
Standard Length of Performance: 3 x 30 minute sets.
Testimonials:
"We loved your entertainment and we will be booking your for next years event"
– The Porthole
"You played a massive part and people are still talking about you today"
– Big Hands Management
Previous Clients Include:
Waterstones
Derian House Children's Hospice
Cumbria County Council
Muncaster Castle
The Circus of Performing Arts
The Porthole
Corporate Adrenalin
Big Hands Management
Runshaw College
Photos of The Prat Brothers