Pickled Characters – Various Walkabout Acts | UK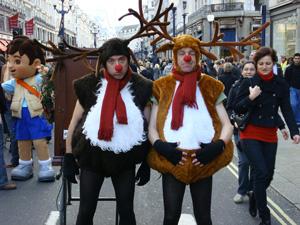 Pickled Characters
Pickled Characters have a variety of street and cabaret performances available for booking, ranging from walkabout acts to a static show. All contain the unique blend of puppetry and live performance using the Pickled Characters brand of dark, hilarious, silly humour, which has become a trademark for their shows. Proud to be at the forefront of British puppetry the company is continuing to create exquisite puppets and performances, which are enjoyed all over the world! Some of their most popular walkabout acts include reindeer and a big bad wolf!
The Rutting Reindeers
Two reindeers, but which one's Rudolph? They both have red noses and claim to be the genuine article. It can only be decided with feats of endurance and bravado. These two characters are more than just cute, cuddly critters for photo opportunities; they are deers of steel with red blood coursing through their veins and noses. A sure fire hit for all festive frolics.
The Big Bad Wolf
He's not mean, he's not scary, and he's just a twerp who's very, very hairy!
This fey, foppish, ham actor is not as bad as his reputation portrays him. All he requires is a loving audience to practise his moves on. Instantly recognisable as one of the most famous characters from children's fairy tales, The Big Bad Wolf is a fantastic life size puppet that can be booked for any event, indoors or out, but woods are his speciality!
Both acts are with 2 performers.
Travels with Granddad
The show can be performed on the street as well as in conventional spaces indoors. The show is aimed at children from 3 years+ and has had enormous success with family audiences at street theatre festivals, schools and theatres across the UK. The show includes an interactive workshop element where the children and audience are invited to devise a story with Granddad after the show.
Set Times:
30 minutes
Photos of Pickled Characters