Penguins – Walkabout Characters | UK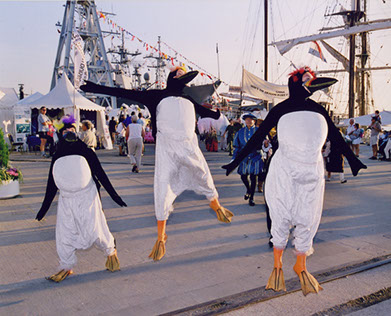 The Pengiuins are being naughty! Posing, fishing for compliments, jumping, dancing, flapping and poking their beaks into everyones business. This is one unique walkabout act!
The Penguins have landed!
Embarking on their mission for worldwide penguin domination they boldly waddle where no penguin has waddled before!
Spotted in the streets of Brighton, at Glastonbury Festival, on BBC television, at Covent Garden International Festival and many other events they have also popped up at cocktail parties, fish markets and escalators everywhere.
Testimonials:
"….they went down a treat!"
- Kirklees Council (via Contraband)
Photos of Penguins