Pastische – Snow Globe | UK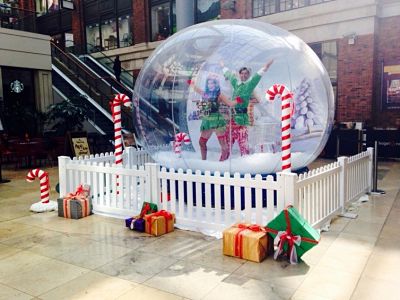 This giant snow globe is a unique attraction available for hire either at Christmas, or to complement a Winter Wonderland themed event. The concept has been based on the popular miniature snow globes that many people often had fun shaking around to create the perfect snow fall around the objects inside.
Well now we have created a giant version that not only recreates the snowfall, but allows you to be a part of the scene! Guests enter the Snow Globe through the magical Winter Wonderland garden filled with snow, presents, giant candy canes and even a post box to post letters to Santa. They will then walk through the inflatable entrance.
The Giant Snow Globe is a totally unique, interactive and fun concept that is sure to wow guests during this winter season; step inside the Giant Snow globe and become part of the scenery and be transported to your very own winter wonderland!
Our Giant snow globe can accommodate from 1 to 8 people at any one time, and as part of the attraction, our staff will take photos which can be housed within a custom frame.
The package is also available with entertainers such as Santa, Elves, Fairies, Candy Cane Characters or even roller skating Christmas Baubles! We can even make it snow with our state of the art giant snow cannons.
Photos of Snow Globe