Pastiche – Winter Wonderland Package | Walkabout Characters | UK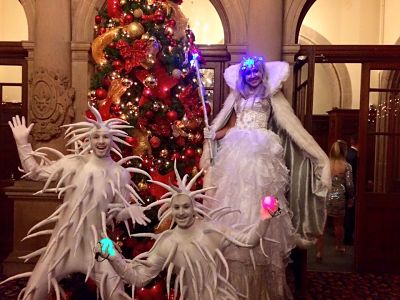 As a variation to your normal stilt walkers, this package includes an Ice King and Queen, ice pixies, snow fairies in fantastic outfits, which light up thanks to the fantastic LED lights hidden in the costumes. Imagine all the magic of a Winter Wonderland or a Narnia event and all the acts that capture all of this. They can work as individual acts or with a cast of similar characters including ice elves, Mr Tumnus, Ice Queen and Snow Pixies complete with prosthetics and of course, the LED lights.
They can perform on foot, stilts and even roller boots, or as a living table or strolling table.
Duration: 3 hours
Costumes available:
Ice King
Ice Queen
Snow Fairy
Ice Elves
Snow Pixies
Mr Tumnus
Photos of Pastche Winter Wonderland Package