Oily Weathers – Stilt Walker | UK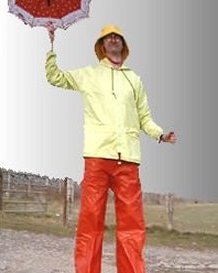 A waterproof stilt character. Not usually booked as such, but always carried in the van in case the weather doesn't co-operate!
Most effective in a downpour when the whole event has ground to a halt, but the audience are still there, hiding under any shelter they can find.
Happy to perform in torrential rain, but may have to stop for high winds, slippery surfaces or lightning.
Photos of Oily Weathers