Nikki – Fire Performer | UK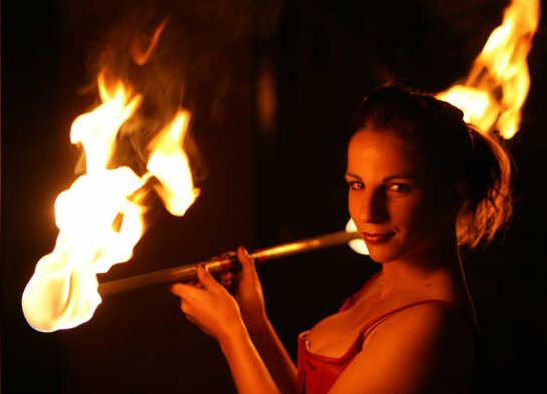 This accomplished fire performer and funky thing shaker combines her skills to produce choreographed solo performances. Set to either funky upbeat tracks or classical pieces, shows can be variable lengths incorporating fire eating, body burning, single and double fire staffs, fire club swinging, fire fans and fire hula hoop.
Suitable for cabaret, festivals and outside as event, meet and greet style entertainment. Fire can be performed as a set, choreographed pieces to music (full show 15 mins) or as free style improvised entertainment.
For fire performances the area provided must comply with health and safety regulations for fire insurance, at least 3m distance from performance area to audience. A PA to play a CD is required for large venues, for smaller shows PA can be provided.
Previous Clients Include:
Jaguar
T-Moblie
Rolls Royce
The Ivy
The Speigal Tent
London Docklands
Jordan and Peter Andres Wedding
Paul OGrady Show
Sahara Airways
Po Na Na
Legoland
Thorpe Park
Jim Henson Co. in "Mirrormask"
BBC 2
The Rocking Horse Appeal
Theatre Royal
Brighton Pavillion Theatre
Short Circuit Childrens Circus
Ross on Wye International Festival
Bedford International Kite Festival
Glastonbury Festival
Andover Community Festival
The Green Man Festival
Electric Picnic
The Brighton Festival
Bond Street Festival
Tribal Gathering
Strawberry Fair
Southwark Festival
Watford Community Festival
Brighton International Circus Festival
Streets of Brighton
Bedford River Festival
Cardiff Street Theatre Festival
Southwark Community Festival
Winchester Hat Fair
The Bolton Show
Walthamstow Festival
Coastal Currents
Dartford Festival
Photos of Nikki