Ms Chalet – Accordion Player Character | UK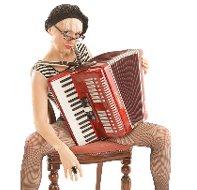 Ms Chalet
Welcome to the world of Ms. Chalet, where everything can be a little bit French!
In this chic, musical 'homage' with a continental twist, the divine Miss Chalet and her piano accordion create an irresistible atmosphere of Parisian romance to give your special event that certain 'je ne sais quoi'.
With a nostalgic repertoire of chansons and waltzes from the heyday of Piaf and pre-war Paris, Frankie will transport you to the grand boulevards of the world's most romantic city before you can say 'ooh la la.'
Listen to the magical strains of her cafe accordion and be transported to a magical place where pavements turn into boulevards, cheese on toast becomes Croque Monsieur, and even your bag of chips taste like pommes frites!
Available as a comedy cabaret act, or as a straight musical walkabout with wry asides.
Standard Length of Performance:
4 x 30 minute sets.
Testimonials:
"I would like to thank Helen for her grace and fabulous performance. I know everyone who has commented has said something about the authentic feel of the atmosphere which is partially due to her too."
– International Live Music Conference
"The event went really well….The acts were great and really added to the ambience."
– Redrok Experiential Ltd (via Contraband)
"The acts all went down really well so can you please pass on a huge thank you. The mime and accordion player were fantastic….thanks so much again to everyone for making the party an absolute success!"
– Snapdragon Parties Ltd (via Contraband)
Photos of Ms Chalet