Moon: The Painters – Real Object Juggler | UK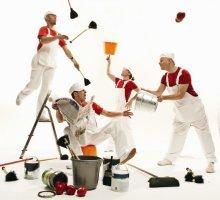 The Painters are chaotic real object jugglers. They can juggle buckets, brushes, mops, ladders and paint tins – in fact they'll do anything to get them out of doing any real work. So while 'the job' goes chaotically downhill, the boys are obliviously happy in anti-gravitational mayhem.
This walkabout act consists of between 1 - 4 jugglers.
This is an act specially designed for the Britannia Building Society Branch Refurbishment Launches, UK wide, 2007. It is now available for other events.
Standard Length of Performance:
The painters perform up to 3 x 30 minute sets depending on the nature of the event.
Photos of The Painters