Moon: The Doormen – Juggling Stilt Walkers | UK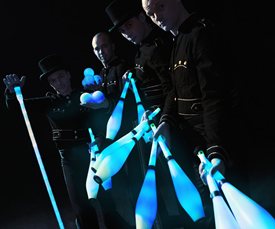 Smart, sophisticated and with a variety of unusual skills, including, stilt-walking, glow juggling/spinning, contact-juggling and fire performance.
Positioned just outside or inside your venue, these friendly characters make a charming first impression for your event. Imagine fire jugglers welcoming guests at the entrance to your event? Or having the magic and elegance of LED Glow juggling to get the night off to an exciting start? They can also perform in extended freestyle sets in specified areas of an event e.g. mini stages, alcoves etc.
There are countless ways for The Doormen to perform in meet and greet, walkabout, ambient and freestyle capacities.
The Doormen are part of Moon's expert performance team (also responsible for Calvos Contact Jugglers, The FlameOz Fire Show and The Halo Glow Show) and as ground-based characters can also include juggling with crystal balls as part of their welcome.
The Doorwomen:
These two gorgeous hula-hoop girls will dazzle your guests with their incredible multi hula-hooping skills. As a meet and greet act they will welcome your guests smiles and skills they will not forget! As a walkabout act they will interact playfully and perform hula-hoop stunts many of your guests would never have seen or thought possible!
Standard Length of Performance:
Up to 3 x 30 minute sets depending on the nature of the event.
Testimonials:
"The Doormen duo went down a storm!"
Pebble Productions, London
"Everything went great…both kids and adults loved The Doormen who were very professional and smiled the whole way through."
- Vinopolis
"The next day feedback was not good, it was FABULOUS and that's because of you."
- HH Advertising
"I think The Doormen worked really well as pre-dinner entertainment for the party. It was a beautiful evening so having them outside in the garden was just great. They looked exactly as I had expected and the performance they did matched my expectations as well…so no complaints at all."
- Chique Events
Previous Clients Include:
Madinat Jumereih
Woodford Festival
Edinburgh Fringe Festival
Henie Onstad Art Gallery
Holders Season Festival
Chef of the Year Awards
Hilton Park Lane
Microsoft Conference
Henley Festival
Feast Festival / Xtrax
British Grand Prix
Silverstone
Klub TOP
Hallowtides Festival
The Saatchi Gallery
Manchester City FC
Coronation Street
Lakes Alive Festival
Chelternham Literature Festival
Morley Fund
Royal Courts of Justice
International Gaming Expo
Scottish Widows
'Rise and Fall' Sculpture
Whitehaven Maritime Festival
South Bank Winter Festival
Xscape
St Davids Centre Opening
The London Aquarium
The V&A Museum
Regents Street
RBS
Tutunkhamun Exhibition
O2
Grosvenor Hotel
PepsiCo
Bloomberg
Liverpool One
Chelsea Festival
Manchester Art Gallery
The Gherkin
The Palm House
Newbury Racecourse
Serpentine Gallery
Madame Tusauds
FUSE Festival
Oxford University
Capital FM
Horne House Private Club
Celtic Manor
Brewery & Chelsea Gardens
Photos of Moon: Doormen