Meddling Glow Performers – LED Performers | UK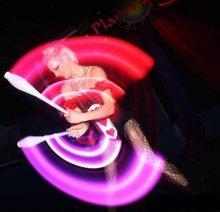 Meddling Glow Performers
Meddling Glow Performers are an experienced team of highly interactive performers who can bring their gifts with glow to your event.
Whether its juggling for a birthday, poi for an event launch or a mix and match of everything for your corporate party then Meddling Glow Performers can provide you with it. With years of experience working across the UK and Europe Meddling Glow have all the experience they could need to bring you an incredible show.
All their artists are fully insured professionals and members of Equity.
Testimonials:
"Everything went really well thanks… pass on my thanks again to them all. The fire and glowing jugglers worked really in the open space as it got darker! Really useful to know that you have some local entertainers, as we perhaps think majority of your guys are London based. I've let the team here know about my positive experience and to ask you about local performers if they have anything coming up. Thanks for all your help with it."
– Logistik
"It was fun having them there. The guests said they'd never seen anything like it so that was good."
– Private Client (via Contraband)
Previous Clients Include:
Exit Festival
Glastonbury Festival
Ministry of Sound
Cadillac Car Launch
Hard Rock Cafe
Vimto Promotions
Godskitchen Arena Tours
Gatecrasher Events
Photos of Meddling Glow Performers