Body Painter: Lorna – Scotland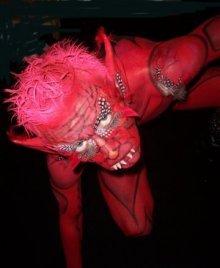 Lorna
Lorna is one of Scotland's premier Face Painting and Body Painting artists.
In recent years, face and body painting has developed, internationally, from simplistic designs for children's parties or "team colours" for football and rugby matches, to a fine art requiring a high level of skill and dedication.
Lorna is at the forefront of this development and has been called upon to demonstrate and share her expertise at several of the largest face/body painting conventions. Lorna has trained many successful artists and is, herself, recognised as one of the leading artists in the UK. She has demonstrated along side world renowned painters and has herself rapidly become recognised internationally.
Lorna is a member of Equity UK and can be relied upon to provide a reliable service to the most exacting standards. Lorna pays particularly close attention to every aspect of her work, from personal presentation, equipment and materials, to the all important aspects of hygiene.
Lorna has provided Face/body Painting services at some of Scotland's most prestigious sporting events, store openings, product launches and night clubs. High impact body painting services have been provided for the rich, the famous, and for some of the biggest companies in the country. Even the latest craze of pre natal art has been accommodated. Despite the ever expanding nature of her work, and the awards won, Lorna still loves to see the look on a child's face upon seeing their 'new' face in the mirror.
CRB available upon request.
Photos of Lorna