Laser Tag – Competitive Game | UK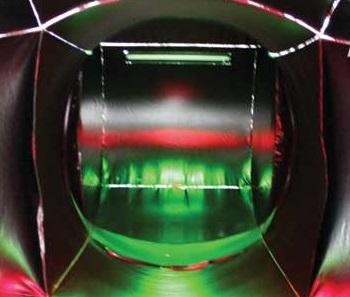 Laser Tag
The very latest in mobile interactive laser tag games played within 1000sq ft of inflatable maze. Each player enters the inflatable laser quasar arena armed with a laser tag gun, once all 10 players are inside, the laser tag game begins. This is a really form of corporate entertainment, and works especially well for team building.
The aim of  laser tag is simple – to shoot your opponents without being shot yourself. The laser guns have different coloured lights for identification, built in score display, sound effects and speech telling the player when they have been shot or hit another player.
The system comes complete with internal smoke effects, 10 laser tag guns which have built in sensors and do not require body packs enabling a fast change over between games.
The system is operated at all times by one of their trained staff who will control game length and run your choice of team or solo games. A real show stopper at parties, fun days, corporate, team build or any fun event.
Technical Specification:
– Suitable for use by both children and adults aged 5+
– Max number of users is 10
– Requires 13amp 240V power supply (or generator at additional cost)
– Equipment dimensions 30'w X 35'd X 7'h
– Operational area 35'w X 45'd X 7'h
– Sandbag weights must be booked for use indoors
– Not suitable for use outdoors on hard standing
(Grass or similar required to enable the use of anchor stakes)
Standard Length of Hire:
The game is usually hired for 4 hours.
Photos of Laser Tag