Karine – Fire Performer | UK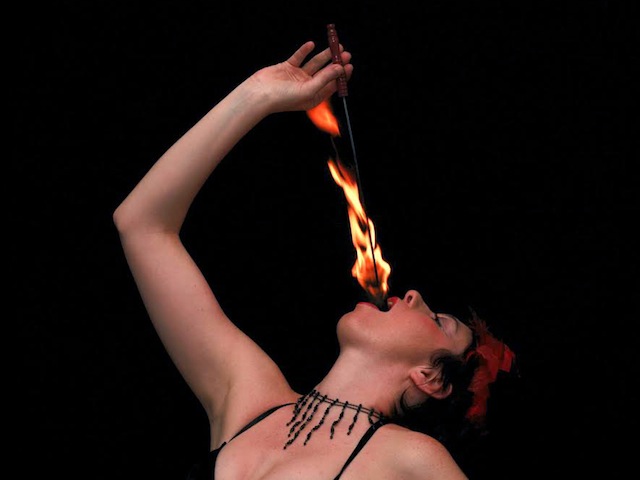 Karine
If you are looking for something really magical, look no further. Karine, for the last 10 years, has developed a unique style combining her mesmerizing fire and dance skills using a distinct array of equipment. These include fire chains, fire staff, fire ropes, fire fingers and fire cross. In doing so she has created several acts that will move and inspire your audience, from dancing with fire to body burning and fire eating.
Karine has a specific style of costumes which she has designed especially to match with the music and mood of her performance, yet she is adaptable and can, on special request customise her shows and costumes to the given theme. Karine is a very talented performer who has dazzled audiences from all over the world in both corporate and public events. She is fully insured. She will provide public liability insurance documents as well as performance safety requirements.
For fire shows, security should be present, how many will vary depending on the size of event. A marked off area is needed for the whole event for extinguishing and storing fire equipment with appropriate fire extinguisher, fire blankets or wet towels.
Standard Length of Performance:
The show lasts for up to 15 minutes but can be adapted according to the client's requirements.
Testimonials:
"She is incredible"
– Herald Express Torbay
"That was an improvised show. She played in perfect tune with the live drums. Her movement inside the poi was graceful, sensual, confident, soft and powerful. She left everyone stunned."
– Spirit Horse Festival
"This woman's got style. Is this the French touch?"
– Private Client
Previous Clients Include :
Adobe
Ford
'The Fridge' Night Club
'Why Be Normal' Fitness Company
Sziget Festival
Les Restos Du Coeur
Les Nuits Baroques
Devon County Council
Guildhall Shopping Centre
Photos of Karine