Kabas – DJ Percussionist | UK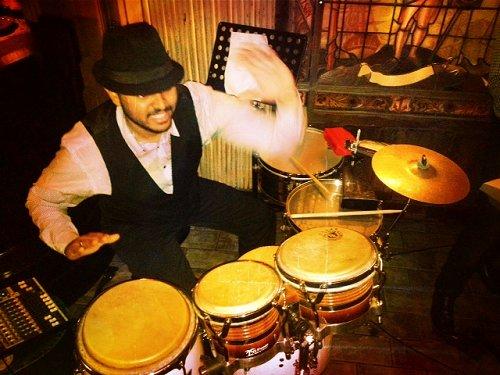 Kabas
Kabas is a professional and talented percussionist with a wide range of experience playing along with DJs and bands at private functions and corporate events. He has rapidly caught the attention of the public for his versatility and capability to play different styles of music such as Afro Beats, Latin, House, Funk, Electronic music, Brazilian Fusion, and others. This talented DJ Percussionist will provide great corporate entertainment and will bring your guests to the dance floor.
With over 14 years of experience playing percussion at clubs and events, Kabas has learnt how to provide an absolutely fascinating show to entertain any type of audience.  He is able to play different instrument such as congas, timbales, bongos, djembe and minor percussion.
Kabas is ready to generate all that high energy your audience is expecting and of course entertainment is totally guaranteed!
Standard Length of Performance:
Kabas performs 2 x 45 or 3 x 30 minute sets.
Testimonials:
"You are a big part of our party, helping to provide a wonderful atmosphere where everyone can enjoy themselves and where it is easy for people to dance to your infectious music."
– Let's Do it Entertainment Agency
"We had and amazing time with you as a special guest of our event. Great energy and people love it. Thank you very much."
– Latin Touch Entertainment
"I thought he was fantastic. It wasn't too loud so people could still talk, was a great talking point and he was really good (and super friendly to guests) throughout the night."
– HowardKennedyFsi (via Contraband)
Previous Clients Include:
The Lion King (musical)
Ola Onabule (singer)
Carnaval del Pueblo
Belushi's Bar
Salsa Bar
Hilton Hotel Park lane
Let's Do it Events
Latin Touch Entertainment
Latin Mafia Band
Cuba Ritmo
Salsabor Duo
Photos of Kabas