Joust – Competitive Game | UK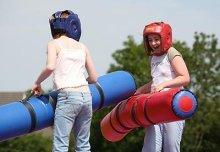 Joust is a great competitive game whether it's for a team building exercise to a wedding this game will be a winner with your guests.
With two padded podiums in place on top of an inflatable base and a couple of padded poles, such fun can be had! children and adults alike will be drawn to the compatitive nature of this game. Stand atop your podium and battle it out with your friends, the last one standing is the winner. Have a jousting tournament, and see who is the over all champion. Pit yourself against your colleague and managers and see who comes out on top!
Photos of Joust