John – Football Freestyler | UK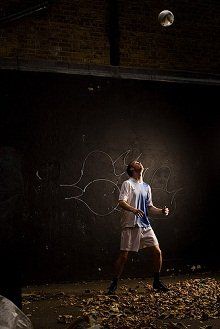 John is a Professional Football Freestyler based in Derby, UK. John regards himself as a pure entertainer, he is the complete showman and his personality can really be seen on stage. John is different to the rest of the football freestylers in that he is always trying to combine different arts into football freestyle, to make him the ultimate entertainer.
John was crowned the UKs finest football freestyler in 2008 at the UK Red Bull Street Style Championships. John then went on to compete for the World Title in Brazil which has led John to be regarded as one of the top football freestylers in the world today. John has gone on to work with Red Bull on numerous occasions after this.
He has toured extensively around the UK performing as well as abroad as has worked with big name brands such as Canon, Virgin and Puma to name a selection of his portfolio. More recently John has been working closely with OXFAM one of the worlds most recognisable charity organisations to launch a nationwide campaign. This has seen John being written about in national newspapers as well as being featured on BBC News stories up and down the country.
Always aiming to please and leave the stage in a state of awe, John is a joy to work with and is fast becoming the number one choice for football freestyle entertainment. John loves working with people and coaching his skills to younger generations, he is one of the best role models a young child could follow, with determination and passion it can get you to the very top.
Previous Clients Include:
Canon
Virgin
Puma
Oxfam
Red Bull
Photos of John Football Freestyler