Joelle – Various Stilt Walking Characters | UK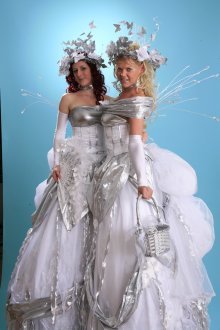 London based stilt walker, Joelle has performed all over the world, twice at Buckingham Palace for the Queen, at Jonathan Ross' private party, at the Glastonbury and Edinburgh Festivals, and The MTV Awards.
Along side these celebrity parties and events she is an acomplished actress. Joelle played parts in the films Dawn of the Dead and 28 Days Later, as well as starring in productions at The Royal Court Theatre and the Hen and Chicken Theatre in Islington. She has wealth of experience on stage and camera.
Having appeared on television as well as private parties and corporate events, she is accustomed to performing in many different environments. This just proves her versatility as a performer, brilliant for all ocassions.
Joelle trained at The Desmond John School of Mime and Physical Theatre in London, which is where she is now based. Her skills include acting, fire performance, stilt walking, robotics, angle grinding, mime, and juggling.
Standard Length of Performance: 3 x 45 minute sets.
Photos of Joelle