JJJ – Jazz & Swing Band | UK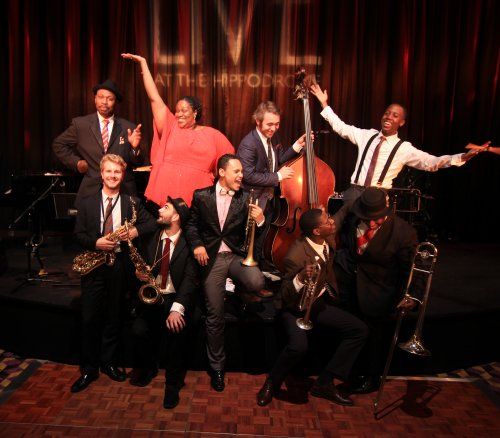 JJJ will have you swinging and spinning all night long. The 8-piece band is led by Canadian trumpeter Jay, renowned for evoking the style and panache of the 30s and 40s era of Jazz music.  The band are a great choice as corporate entertainment, but also good as wedding entertainment and suited to other types of private events. Inspired by his recent role on BBC 2′s drama Dancing On The Edge with the fantastic Lauren on vocals belting numbers all night long and the amazing 'London Swing Society' dancers showing all the moves and jives- No stone is left unturned.
Playing the likes of Duke Ellington, Count Basie, Lionel Hampton and Artie Shaw, JJJ is known for having the country's leading musicians who honour the excitement and integrity of Swing. Having just completed a yearlong residency at London's famed 'Hippodrome Casino', the band is on top form and ready to make your evening a groovy one to remember.
Standard Length of Performance:
The band play 2 x 60 minute sets.
Testimonials:
"JJJ always brought the house down with their great big band sound, amazing to think there are only 8 guys on stage. The amazing and youthful band leader and trumpet player Jay makes you feel like you have stepped into the 1930's with a new pair of dancing shoes and vocalist Lauren is one of the most commanding I have heard for years. One can tell that JJJ does not just play the music of the era, they live it."
– Hippodrome Casino
"When JJJ performed at the Rivoli, they had over 600 people dancing to their fine music. They are such an exciting group of talented individuals who can keep the party going and going."
– Jive party
Previous Clients Include:
Raestar Ventures
Hippodrome Casino
King's Place (Base festival)
Jive Party (Rivoli)
Robert Clarke
Photos of JJJ