Ivan – Upside Down Busker | UK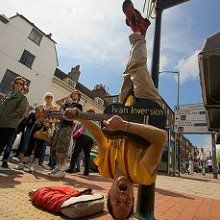 Upside-down busker Ivan Inversion has been amazing the public on the streets of the British Isles since 1982 when he first started playing harmonica standing on his head. Playing guitar and singing dangling upside-down suspended by a rope and climbing harness came a few years later. Ivan performs guitar & harmonica busking songs – upside down!
Standard Length of Performance:
3 x 20 minute sets.
Repertoire Includes:
Y Viva Espana
Turning Japanese
La Bamba
Lucy in the Sky with Diamonds
Sunny Afternoon
True Blue
Honky Tonky Women
Peggy Sue
Young Ones
Me and Bobby McGee
Rave On
Mr. Tambourine Man
Brown Eyed Girl
Knocking on Heavens Door
Photos of Ivan