Ice Cream Van – Food Service Entertainment | UK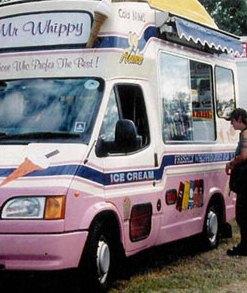 Ice Cream Van
Available for hire for parties and events, Ice Cream Vans provide a professional service that is guaranteed to give your party or event that extra wow factor.
If desired, the vans can be client branded, using the full window/serving space or the entire body of the van. Music played through the vans can also be changed to reflect the event or party theme, or as requested by the client.
Ice Cream Vans will be fully and professionally staffed to your requirements with an experienced driver and/or server, wearing a uniform of your choice and can issue goods of your choice; be that soft whippy ice cream with branded napkins, lollies or goody bags!
They have previously worked on events for a wide range of organisations including Sky, GSK and Bradford and Bingley and have worked at celebrity and other private parties including Stella McCartney for Adidas. They have the experience and attitude required to make your event a success.
Testimonials:
"Working with the team was a pleasure. They knew their stuff and were a friendly and helpful group to work with. If we need ice cream vans in the future, we know where to go!"
– Ignite Europe
"We have used Ice Cream Vans at our 5-a-side Tournament for more than 5 years. They are very professional and the staff are always friendly and attentive. They are always at the top of our list when rebooking for the following years event."
– Tigers J.F.C.
Previous Clients Include:
Sky
AXA
Bradford and Bingley
GSK
Net a Porter
Clearchannel
Stella McCartney for Adidas
O2
Dogs Trust
Emap
Iris
Photos of Ice Cream Van