Hot Dub Time Machine | Famous Video DJ | UK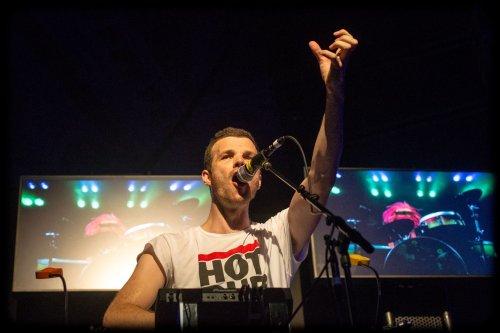 Hot Dub Time Machine
Hot Dub Time Machine are available to book for a variety of corporate events. We work in direct association with their representative, as booking agent for Hot Dub Time Machine.
Hot Dub Time Machine is the World's First Time Travelling Dance Party, using dance-floor energy to power an explosive journey through pop music! Sold-out events all over the world agree: this is the best party ever!
Steering the party from behind two turntables, is DJ Tom Loud, our Hot Dub Captain and audio-visual DJ guru. Hot Dub Time Machine was first performed in 2011 in Sydney, and has sold-out shows and festivals across Australia, New Zealand and the UK. With a swag of 5-star reviews and sold-out shows, Hot Dub Time Machine has become one of the most in-demand festival and nightclub acts around the world.
Hot Dub Time Machine is powered by our top-secret carbon neutral energy source, "Hot Dub," which is generated by dancing, singing-along, and having a great time. As we move through time our on-screen Hot Dub cabin attendant Lulu Loud demonstrates "Power-Up Dance Move Multipliers," such as the 'Twist,' the 'Saturday Night Fever,' the 'Running Man,' and the 'Mosh' which can be used to power up your boogie to keep the time machine on track!!
Hot Dub Time Machine is an audio-visual feast for the eyes, ears and booty, with each song accompanied by videos of the band and of the era, presented on massive screens around the dance floor. Vision and Music is scratched, mixed and mashed-up by DJ Tom Loud, live from ordinary turntables, making every journey a unique and exhilarating experience.
Hot Dub Time Machine is for people of all ages, and presents the very best music from the past sixty years presented in a fresh, fun and innovate format. It's the best two hours of dancing in history!
Contact us today to book Hot Dub Time Machine for your special event.
Photos of Hot Dub Time Machine
Book Hot Dub Time Machine
Want to book a performer, or just find out more? Give us a call on +44 (0)208 8291140 or use our online contact form via the button below.