Oompah Band: Hosen – Germany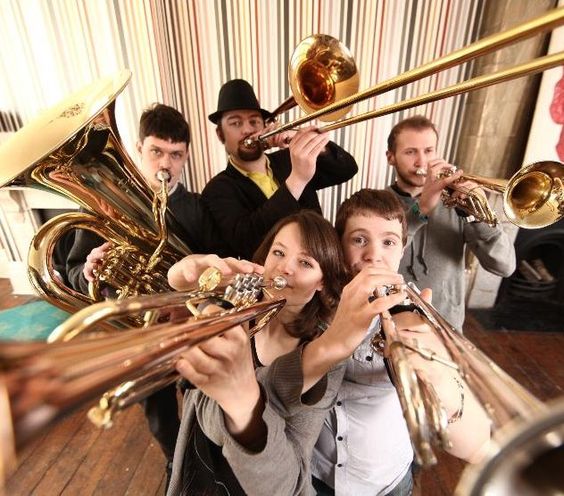 Hosen are one of the UK's leading Brass Ensembles and Oompah Bands, and are one of only two exponents of the Pop-Oompah Fusion that is currently growing in popularity all around the country. Based in Birmingham they pride themselves on being a non-traditional oompah band, targeting a variety audiences and getting them engaged in not only the wonders of Bavaria but also of Brass Instruments that seem to be a dying breed. This band perform at weddings, festivals, corporate events and more!
They've rocked audiences of 45,000 people with their diverse repertoire including songs such as Katy Perry's 'Firework' to older tracks such as The Beach Boys' 'I Get Around'. Their repertoire also includes Bon Jovi, Madness, Queen, Blink 182 and even Rage Against The Machine! They've appeared on Channel 4's Hollyoaks, ITV, MCTV, Sky Sports, BBC radio and Free Radio. They are resident band on a Saturday Night at Katzenjammer's Bierkeller in London (recently voted best place to visit in Europe) and are also the only English Band to have played at London's Bavarian Beerhouse.
They have even performed at Festivals, playing this year's Beautiful Days Festival as well as headlining one of the days at Saffron Waldon's 8 Day Weekend Festival. With their unique use of brass instruments they are able to mingle in between audiences, getting people involved in a completely different way to that of those bands who need the help of electricity, whilst still making it all about music.
They are also available to play with or without traditional dress, turning the German theme on or off as you please (still playing their Bavarian Folk-influenced arrangements!). Their theatrics, choreographies and range of influences from Mnozil Brass and Youngblood Brass Band to hardcore Rage Against The Machine and System Of A Down make this a show not to be missed!
Photos of Hosen