The Hepbir Band – Gypsy Swing Trio | UK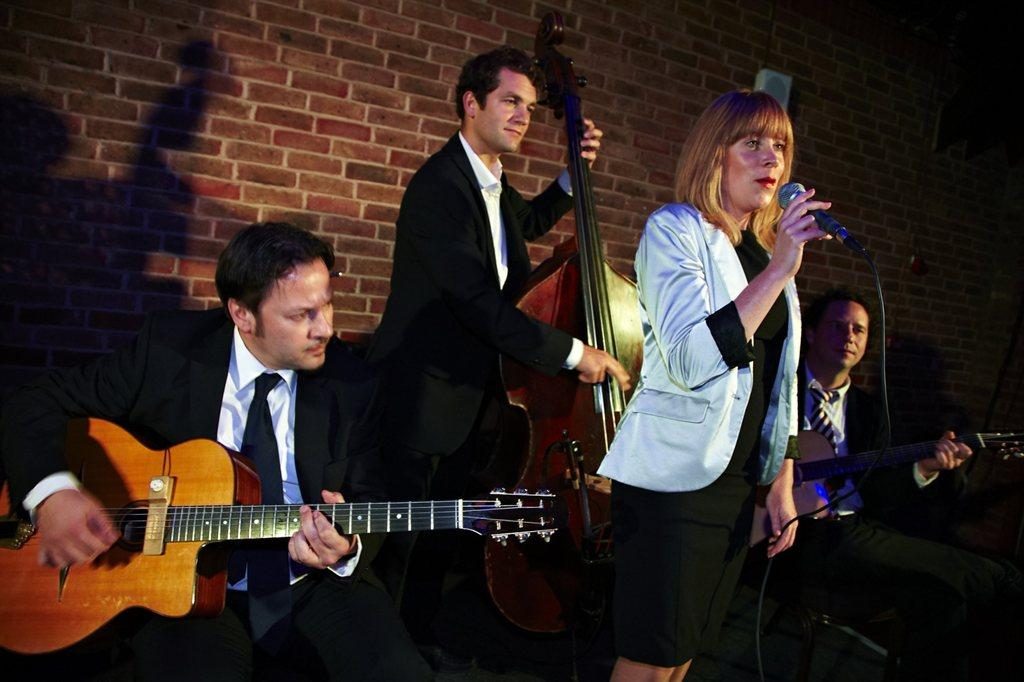 The Hepbir Band
The Hepbir Band are an acoustic gypsy swing band based in the UK. They infuse hot jazz and Latin grooves and mix it all together. Their infectious rhythms are played on an all-acoustic line-up making them a suitable addition for any occasion.
The band can also be hired with the addition of Danish jazz singer Sara to form a unique, stylish and truly sophisticated quartet. Their music of choice is a vibrant blend of gypsy swing, jazz standards and funky Latin, all mashed up with some snappy arrangements and played from the heart.
Technical Specification:
The client will need to provide two armless chairs, an accessible power point and light refreshments.
Standard Length of Performance:
The band can play 2 x 1 hour sets or 3 x 40 minute sets over 4 hours.
Testimonials:
"You and your band were brilliant, couldn't have been better, such a good feeling throughout your sets. Thank you for making such an excellent contribution to the great enjoyment of the evening."
– Private Client
"A really great band. So many compliments from our guests. The band created a joyful atmosphere and just the lighthearted touch we were hoping for."
– Private Client
"We would just like to say thank you so much. We had an amazing day, it was so much fun to have our first dance on the grass. Everybody loved swinging to your guitars, and we had so many people telling us just how brilliant you were. It was perfect. A shame it couldn't go on forever, but it's good to be left wanting more!"
– Private Client
"Yes the band were really good – perfect for the event. They just got on with what we needed them to do and everything went well."
– William Reed Business Media (via Contraband)
Previous Clients Include:
Sir Terence Conran
Paul Merton
Mark Williams
Blenheim Palace
Royal Bank of Scotland
Telecom Tower
Ricard
Claridges Hotel
Price Waterhouse Coopers
Royal Albert Hall
British Museum
V & A Museum
Repertoire Includes:
A Night in Tunisia
After You've Gone
Ain't Misbehavin'
All of Me
Anniversary Song
Anouman
Appel Direct
Armandos Rhumba
Artillerie Lourde
Autumn Leaves
Avalon
Besame Mucho
Bernies Tune
Billies Bounce
Blue Bossa
Blue Drag
Blues Claire
Blues en Mineur
Blues For Ike
Bossa Dorado
C'est si Bon
Caravan
Cheek to Cheek
Cherokee
Chez Jaquet
China Boy
Clair de Lune
Coquette
Crazy Rhythm
Dance Norvege
Daphne
Dark Eyes
Dinah
Django's Tiger
Djangology
Double Scotch
Douce Ambience
Fantasie
Fever
Fly Me to the Moon
For Babs
For Sephora
Georgia on my Mind
Girl from Ipanema
Here Comes the Bride
Honeysuckle Rose
Hot House
How High the Moon
Hungaria
I'll See you in my Dreams
I Can't Give you Anything But Love
It Don't Mean a Thing
It Had to be You
J'attendrai
Jojo Swing
Lady Be Good
Latcho Drom
Limehouse Blues
Lullaby of Birdland
Lulu Swing
Manoir des mes Reves
Melodie au Crepuscule
Manha de Carnival
Micro
Minor Swing
Moonglow
My Blue Heaven
Nature Boy
Night & Day
Noto Swing
Nuages
Nuits St.Germain Des Pres
Oriental Shuffle
Out of Nowhere
Place de Broukere
Porto Cabello
Puttin on the Ritz
Rhythmes Gitanes
Rose Room
Russian Lullaby
Scrapple From the Apple
September Song
Seul ce Soir
Sheik of Araby
Shine
Si Tu Savais
Some of These Days
Spain
Stompin' at Decca
Summertime
Sweet Chorus
Sweet Georgia Brown
Sweet Sue
Swing 39
Swing 42
Swing 49
Swing de Paris
Swing for Ninine
Swing Gitan
Swing Guitars
Symphonie
Take the A Train
Tchavolo Swing
Tears
Them There Eyes
There Will Never be Another You
Topsy
Troublant Bolero
Undecided
Vipers Dream
Wave
What is This Thing Called Love
Photos of The Hepbir Band