Headphone Disco – Silent Disco | UK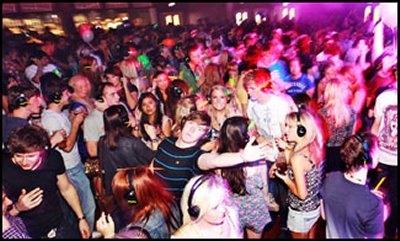 Headphone Disco are the biggest 'silent party' people around performing their unique 'TwoDeejaySuperShow' to enthusiastic crowds around the world. Each show involves arming clubbers with their own set of wireless two-channel headphones, switching off the sound-system and having two DJs spin two completely different sets side by side from Headphone Disco's visually enhanced stage set-up.
Two DJs. Two styles of music. Both at the same time. So how does it work?
– You hire them!
– Their crew arrive at their location and set up the whole show
– Their DJs rock the party mashing up two channels of tunes with the option of live video
– The crowd select their DJ of choice via a switch on their headphones and get busy on the dance floor
Call it a silent disco, call it a headphone party or call it whatever you want, either way it's a truly unforgettable experience. Headphone Disco's 'TwoDeeJaySuperShow' is a unique, surreal and hugely enjoyable experience that's been rocking the college, festival and club circuit since 2007. From London to Lisbon and Moscow to Montreal the reaction to this silent party sensation has been immense as party people embrace one of the most talked about and freshest of dance party experiences. Contact us about bringing the show to their venue/festival, silent disco rental deals or anything else Headphone Disco related.
Their classic 2 DJ silent disco show has to be seen to be believed. If you've never been before here's how it breaks down…
– Take a room/field/tent full of people and arm them all with a set of their unique two channel wireless headphones.
– Have their two resident DJs play two totally different musical styles at the same time.
– Let the party people select which DJ they want to listen to via a switch on their headphones.
– Join in or simply watch the spectacle as a mass of humanity gets down and sings along to a soundtrack that only they can hear.
Surreal, bizarre, slightly outrageous but most of all hugely enjoyable, Headphone Disco is one of the most exciting dance party experiences to emerge in years. Where else can you witness one half of a crowd go wild to tough electro beats while the other half get down to some floor-shaking rock n' roll? On the same dance floor. At the same time! Taking part is fun, watching from the side is hilarious and avoiding any late night amplified-noise curfews make the event hugely practical for promoters as well.
The Headphone Disco Two DeeJay Supershow is now a firmly established stand-alone event filling dance floors around the world. The popularity of the silent disco concept is massive so why not contact us now about bringing the show to their next event.
– They have over 20,000 pairs of headphones in 9 global locations.
– Their DJs spin an average of 155 tracks at each Headphone Disco show
– Their longest gig (12 hrs) was at the Relentless Festival in London ON
– On Fri 14 October 2010 they played three shows in three continents in Canada, Russia and Uganda
– Their biggest show to date was for 16,000 guests at Creamfields Festival in the UK in 2012
– Their DJs wear only yellow or black branded HD tees at their shows. It's the law!
– The biggest open air gig they've ever performed was at the University of Denver CO (2000 capacity). It didn't rain!
– Their very first ever Headphone Disco show was at Death Disco, Glasgow, UK in February 2007
The DJs
Their collective of DJs, sound-techs, agents and promoters are on hand to make sure that every Headphone Disco show goes off with a bang, every time. With bases in the UK/Ireland, USA, Canada, South America, Russia and East Africa their silent party sensation is now available globally.
Testimonials:
"…working with Headphone Disco is always a good time. The guys are easy to work with and a lot of fun. Not to mention great DJs!"
–  Uni of West Florida, Pensacola FL
"…feedback has been great as usual guys. We could hear the singing/screaming/cheering from the production office as we were trying to count money. Thanks. I think. And see you next year.."
–  Rock Ness Festival, UK
"…the turnout was great, everything ran smoothly and the guests just had the best time…"
– US Red Bull, Reading PA
"…with this being their second go-around with Headphone Disco this year, we have been nothing but pleased with the event. We look forward to having Headphone Disco back again next year…"
– Uni of Notre Dame, Notre Dame IN
"…this was Their 4th year with Headphone Disco providing the late night entertainment on the site and it gets bigger and better each year. Great tunes and a great atmosphere…"
– Wychwood Festival, UK
Photos of Headphone Disco