Hayley – Fire Performer | UK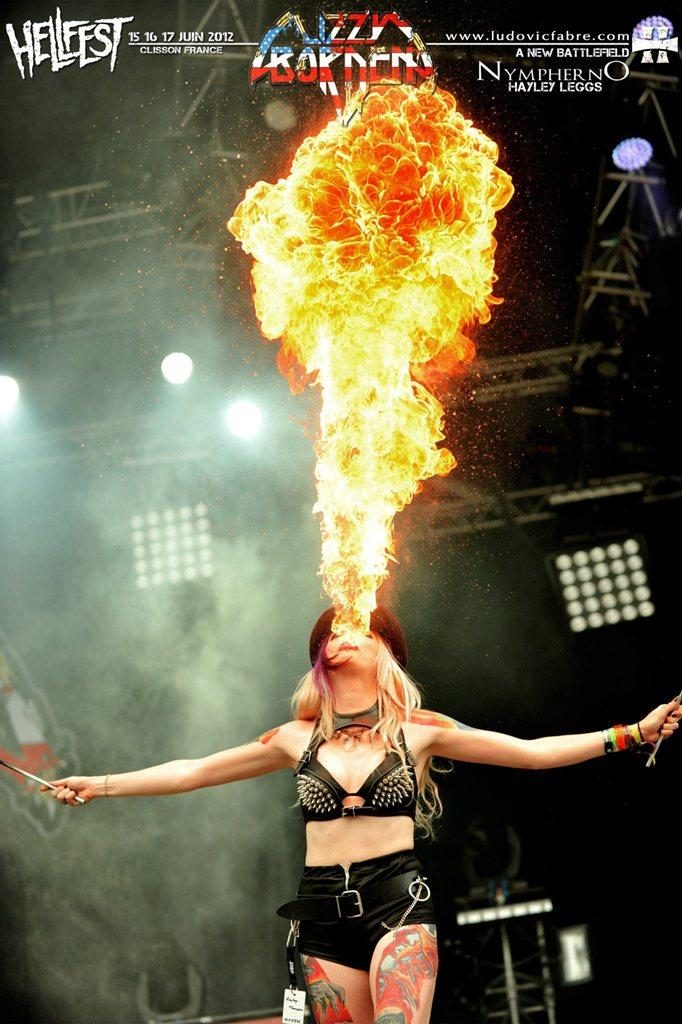 Hayley is a show-stopping performer specialising in fire breathing, fire eating, body burning and angle grinding. If you're lucky, you may even get to see her Slipknot fire routine- a flaming marching drum played with flaming sticks! Hayley is perfect for Halloween and corporate events.
With flames reaching higher than you've ever seen and shows with blazing attitude, you're guaranteed a spectacular performance. She loves to add to her already 6ft height in interactive meet and greets on stilts.
Hayley's versatility can make the most of her tattooed, heavy metal appearance, or play it down for more subtle performances, and can create a tailor-made show for whatever your event requires. She is renowned for her spotless reputation, dazzling professionalism and an eagerness to interact and impress.
You only need to read her list of testimonials from many high profile clients to know that what you see is what you get. Her years of experience for a wide range of shows and clients, as part of a group and as a solo performer is clearly apparent in her work.
Standard Length of Performance:
Solo shows last 5-10 minutes, depending on client requirement and venue allowances. Stilt walking can last up to 45 minutes per set with a minimum 30 minute break in between, as many sets as required.
Testimonials:
"…The perfect blend of sex appeal and showbiz! Drop dead gorgeous girl, breathing fire and shooting sparks…I'd say that's every guy's ultimate fantasy!"
– Chris Jericho, WWE Wrestler and musician
"We´ve had the pleasure to work with the Hayley a couple of times, and we continue to be always more than happy to share the stage with her. Her work ethic and focus is always 100% to get the show done."
– Mr Lordi, Lordi (Eurovision winners 2006)
".. a huge attribute to my recent event. Professional, sexy and scary as hell!"
-Devin Townsend, award winning musician.
"We've been glad to book Hayley for the second year in a row. The contact with the audience is great, as well as the collusion with other artists. So, booking Hayley is the way to go!"
– Hellfest
Previous Clients Include:
Download Festival
Sonisphere
Glastonbury
Hellfest
Hammerfest
Hard Rock Hell
High Voltage
Bloodstock Festival
Bestival
Run to the Sun
Big Reunion
Tidy Weekender
NME Weekender
SFX Weekender
MCN Weekender
Rock The Night (Denmark)
RMJ (Finland)
Underwall (Croatia)
Kronenburg
Girls & Corpses Magazine
Jane Doe Latex
Slaughterhouse Couture
Monster Energy Drink
Desperados
Microsoft
EA Games
Hades Footwear
The Late Late Show
James May's ManLab
Unum
Sanctum
Killerfix Industries
Kate's Clothing
Little Penny/Dead Threads
Penn and Tellers Fool Us
Whisky A Go-Go (Los Angeles)
Lucha Brittania
Torture Garden
Astoria
Mean Fiddler
Various o2 venues
Cafe De Paris
Cirque Du Soir
Fangtasia
Proud Galleries
Redeemer Clubnights
Piccadilly Institute
Electrowerkz
Scala
Electric Ballroom
Egg Club
Nottingham Rock City
Devil's Night
Flame
Purple Turtle
The Den
Punk
The Institute, Birmingham
The Garage
Girls & Corpses Magazine
Bizarre Magazine
Metal Hammer
Kerrang!
Tattoo Vixens
Photos of Hayley