Hatty Ashdown – Famous Comedian | UK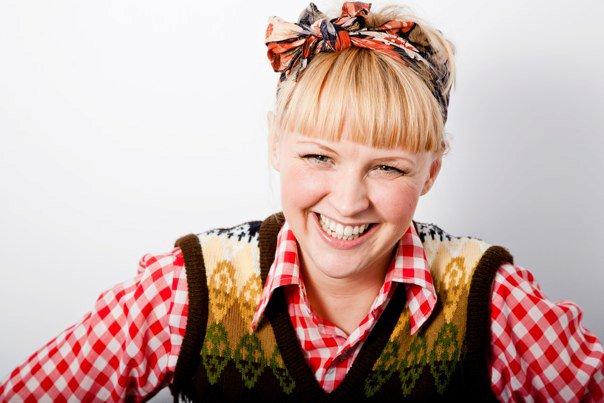 Hatty Ashdown is available to book for your special event – as a booking agent for Hatty Ashdown, we can arrange for her perform at your special event.
Hatty Ashdown is a stand up comedian, presenter, MC, writer, actor…and slipper wearer. Hatty subverts the normal stale concept of stand up and presents the audience with a comedy experience that makes them not only laugh, but feel comfortable in any live environment. Her distinctive spin on stand up comedy has turned many heads and she is quickly gaining an enviable reputation for a unique brand of comedy that is warm, inclusive, and unpretentious
Hatty hit the London circuit around 2009 playing various London clubs, progressing from 10 to 20 min sets to headline spots. Hatty Ashdown has played alongside the likes of Josie Long, Stewart Lee, Issy Suttie and Robin Ince at the Udderbelly on South Bank.
She also loves MC-ing and has compered various London clubs including her own club for three years. In 2012 Hatty Ashdown co-hosted talent show Star Search at the notorious Bethnal Green Working Mens club . It was the most creative and effective way I have seen of producing a warming and friendly atmosphere. Three Weeks.
2011 saw a successful run at the Edinburgh Fringe Festival with her first solo 40 minute show Hatty Ashdown-Nan Child receiving a 4 star review from Three Weeks and featuring in The Lists top 5 Free Fringe Shows.
Hatty's first love is radio; she has appeared on BBC Radio London with her own live slot of Hattys Haberdashery covering the arts & crafts of London and a whats on guide. Hatty Ashdown then went onto to present her own shows on Jnet, Shoreditch & a weekly slot on Croydon Radio.
Hatty's personable and warm stage persona is something that she has put to good use not only in stand-up but also in TV presenting, interviewing celebrity names such as James Brown, Lou Reed and Esther Rantzen for the BBC and Channel 4.
Hatty has written the new sitcom GIVE OUT GIRLS which will air on Sky Living in 2013. The show is based around a group of promotional girls, who hand out products in the street. With Hatty's hilarious first-hand experiences informing the scripts, the shows authenticity shines through. Hatty Ashdown has written the show with Anthony McMurray; it is produced by Big Talk Productions & Popper Pictures for Sky Living.
Hatty's most recent acting part was her role as regular part Dawn in comedy Marshals Law 2012-2013. Hatty has also featured in various TV commercials including Pizza Hut, Boots, PSP, and Heart FM. She played Medusa on the kids show Ross Lee's Ghoulies on Nickelodeon, and a frumpy fairy in CBBC Broom Cupboard Live on Christmas Eve. After graduating from Drama Hatty Ashdown performed in two theatre companies, including her own one-woman show Chick Habit, playing 4 comedy characters at the Ipswich festival. Hatty has also had a photographic career as character model for Mr Kipling, nicorette, Play Station to Heinz Beans to name a few!
As a booking agent for Hatty Ashdown we can arrange for her to perform at your event. To hire Hatty Ashdown call Contraband Events as we can make it happen. We are booking agents for a huge selection of famous comedians to hire, and we can recommend the best comedian to book for your event. We are the UK's top booking agent, with friendly, experienced account managers who guarantee you the best deal possible.
Testimonials
"Innate funny bones"
- Chortle
"Anecdotal humour that never feels stilted or scripted ... makes Ashdown one to watch on the comedy scene."
- Three Weeks
"Wonderfully inventive, consistently funny."
- Time Out ****
Photos of Hatty Ashdown