Harry Potter Show & Workshops | UK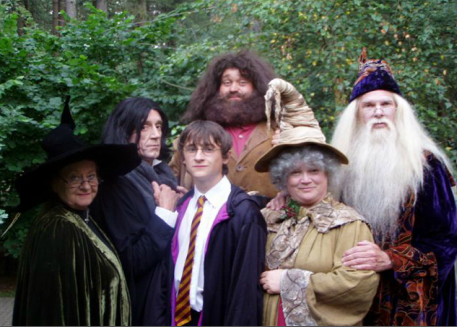 Harry Potter Show and Workshops
The Harry Potter Show
The show can consist of all the characters or Just Hagrid, Harry and Dumbledore, Magical music sets the mood. Hagrid appears and welcomes every one to this special magic meeting, he then tells some little Hogwarts secrets before introducing in very grand style, the headmaster, Professor Albus Dumbledore.
After great cheers and his welcome he proceeds to find out if there are any witches' or wizards in the audience and apologises for Harry's absence, when he realises there is disappointment in the air he decides to do something that is strictly not allowed… Magic outside of Hogwarts!
Hagrid then wheels out a large crystal casket that is completely surrounded and with some Hogwarts Magic makes Harry actually appear inside the casket (this is breathtaking) Harry says hello and demonstrates what he has learnt that term, then Dumbledore develops a problem as his hand starts to wither away and Harry has to make a potion to save him.
After which the characters then do an autograph and photo session this included, the show lasts for an hour.
Also available magical music – PA must be provided
This can happen 3 times in the day.
Broomstick Making Classes
Professor Mogonagal can also give a broomstick making class in a separate area, where all the children are invited to the area.
Firstly, Professor Mogonagal talks about different wands and what they are capable of and what features can be added. Then all are given the relevant materials which will be turned into the most magical wands.
Prizes can be awarded at the end of the event.
Magical Planting Classes
Professor Sprout can also hold magical planting classes where the children make and design the plant pots, then after a master class in magical potting with special magical beans these pots are then taken home and after some TLC the plants will grow away!
Owl Handler and a Care of the Magical Creatures Class
This class includes a half an hour show to introduce different types of the birds including the eagle owl that flies over the audience almost touching their heads in true Hogwarts style. Then there is an amazing class with the professor showing the giant rococo toad, armadillos, a scorpion, tarantula and giant stick insects.
Class with Moaning Myrtle
Wand making, potion making or fizzy bomb making
The above classes are a great form of corporate entertainment . If you want to book a corporate workshop that is fun, and one that your employees will remember, this would be a great choice.
They Also Provide:
The animatronic magical sorting hat – Sort your guests into Hogwart houses with and receive wizard hats!
Magic Candy floss machine
Green chocolate fountain
Photos of Harry Potter Show and Workshops