Hal Cruttenden – Famous Comedian | UK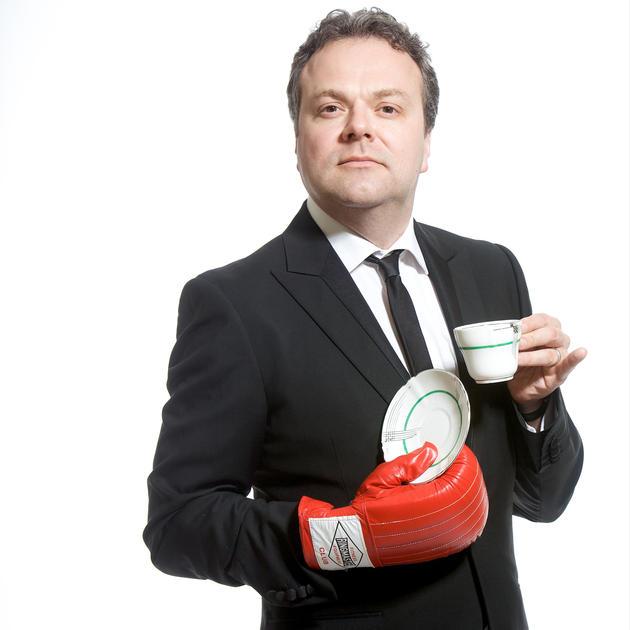 Hal Cruttenden is one of the top comedians working in the UK today, as well as being a highly accomplished writer and actor. Hal's friendly nature makes him the ideal awards host to hire for events, as well as a brilliant stand-up comedian to perform at corporate events and functions.
Recent television appearances include 'Live at the Apollo' (BBC1), 'Have I Got News For You' (BBC1), 'Mock The Week' (BBC2), 'Michael McIntyre's Comedy Roadshow' (BBC1), 'Let's Dance For Comic Relief' (BBC1), 'John Bishop's Only Joking (Sky One), 'Edinburgh Comedy Fest' (BBC3) and 'The Royal Variety Performance (ITV),. He's been nominated for 'Best Club Act' at the prestigious Chortle Awards, and his stand up show 'Tough Luvvie' is now touring the country after selling out at the Edinburgh Festival. In 2014, his first sitcom, 'Hal' was broadcast on Radio 4.
In the last three years Hal Cruttenden has toured the UK with his shows 'The Tiny Rage Tour 2011' and 'Lively' (2010).
Hal's big breakthrough in stand-up came with his nomination for the Perrier Newcomer Award at the 2002 Edinburgh Festival for his solo show 'Hal', followed by a highly successful run the following year of his second show, 'To Hal and Back', which was also performed at the Soho Theatre in London. His 2008 show 'Climb Every Molehill' was critically acclaimed but 'Tough Luvvie' (his latest show) has been described as his best show yet with the Daily Telegraph saying, 'He's naturally funny but he's evolving here into something more challenging and provocative than some jolly-faced follower in the footsteps of Michael McIntyre.'
Internationally, Hal Cruttenden has travelled across Canada on the Just For Laughs 2008 and 2011 Comedy tours. He has appeared at two Just For Laughs Galas in Montreal hosted by Joan Rivers (2008) and Howie Mandel (2012). He has also done shows at the Kilkenny Cat Laughs Festival 2005 and Just For Laughs Montreal again in 2004. Other international comedy tours include India, Bermuda, the Netherlands, Belgium, Germany, Denmark, Norway, Ireland, Abu Dhabi, Dubai, Qatar, Kuwait, Bahrain, Jakarta, Bali, Shanghai, Hong Kong and Singapore. For the British Armed Forces he has played gigs in the Falkland Islands and Cyprus.
If you are looking for unforgettable entertainment for your corporate event or private party, we are a booking agent for Hal Cruttenden, and can arrange for Hal Cruttenden to perform for your guests.
Television Credits
Other television appearances as a comic include 'Comedy Rocks' (ITV) and 'The Rob Brydon Show' (BBC2), 'The Omid Djalili Show' (BBC1), for which he wrote numerous sketches; 'The 11 O'Clock Show' (Channel 4); 'Tonight' (ITV); 'BBC Breakfast' (BBC1); 'Comedy Central at the Comedy Store' (Comedy Central); 'Just For Laughs Gala' (CBC Canada); 'Funny as Hell" (BBC America) 'George Stroumboulopoulos Tonight' (CBC Canada); 'Brain Candy' (BBC3); 'Live at Jongleurs' (UK Gold/Paramount); 'The Comedy Store' (Paramount); 'The World Stands Up' (Paramount Comedy Channel UK, The Comedy Channel Australia, and Comedy Central and BBC America); 'The Warehouse' (Carlton TV); 'Carlton Comedy Warehouse' (Carlton/STV); 'Most Annoying Couples' (BBC); 'The Deputy Prime Minister' (BBC2); 'Hoot' (Bravo); 'Net.Comedy' (Action Time); 'Daily Telegraph Open Mic Awards' (Channel 5) and 'House of Fun' (Meridian).
Radio Credits
He can be frequently heard on the radio with appearances on Radio 5 Live alongside Richard Bacon, Nicky Campbell, Nick Hancock, Victoria Derbyshire and Stephen Nolan; Radio 4's 'Act Your Age', 'Four at the Store' and 'Loose Ends'; Talksport Radio and Radio Ulster's' The Blame Game'.
Acting Credits
Having originally trained at the Central School of Speech and Drama, Hal's acting career includes roles on TV and film in 'Shackleton'; 'Eastenders'; 'Kavanagh QC'; 'Out of the Blue'; 'Touching Evil' and 'Bramwell'. On film he has been in 'Mrs Dalloway' and 'The Madness of King George'. Theatre work includes 'Making News' at the Edinburgh Festival and 'Orwell A Celebration' at Trafalgar Studios London and the Edinburgh Festival.
Testimonials
"An absolute joy to watch…fabulous"
★★★★ Scotsman
"His best solo stand-up show to date"
★★★★ Daily Mirror
"Crowd-pleasing comedy"
★★★★ Evening Standard
Photos of Hal Cruttenden