The Guardsman – Stilt Walker & Walkabout Character | UK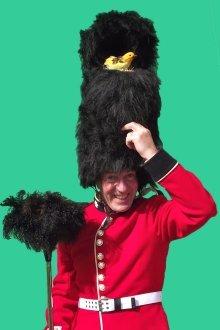 As a member of the Queen's Royal Housekeeping Regiment, The Guardsman will busy him self making sure that your Jubilee event and your guests, are well presented, smartly turned out and dust-free. After that, it's time for a bit of marching, then you can join him for a nice cup of tea from the pot he carries in a compartment inside his ceremonial hat. He'll also be delighted to introduce you to his pet canary, which nests in inside his hat's flip-up lid!
Ideal as a meet and greet, or mix and mingle, "upfront" or background, as appropriate. Performed by Bernie, an entertainer with over twenty years experience of interacting with different types of audiences, in a huge variety of settings.
Standard Length of Performance:
The Guardsman usually performs 3 x 40 minute sets, but this is flexible.
Testimonials:
"Thanks for putting on such great shows for us at the North West 200 Race Week Festival. Each show got the same great reaction and put a smile on the faces of all the kids in the audience. A great showman."
- Coleraine Borough Council/ NW200 Race Week Festival
"Bernie was fabulous. He drew huge crowds and everyone loved him – Dorchester has never seen anything like it."
- Dorchester Street Festival
Previous Clients Include:
BBC
ITV
Glyndebourne Opera
Coliseum
National Theatre
National Garden Festival
Glastonbury Festival
Great West 200 Festival
Nottingham Riverside Festival
Jeremy Shine/Streets Alive
Photos of The Guardsman