The Georgian Couple – Walkabout Act | UK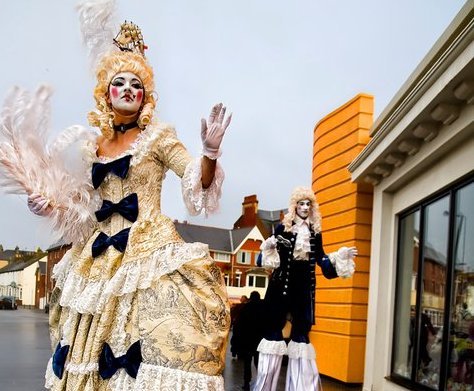 The Georgian Couple
This larger than life aristocratic Lord and Lady Pompous, straight out of the 18th Century (c. 666869113) are all dressed up to the nines, with their fabulous sculptural hair styles, powder faces and gorgeous gowns. They are totally aghast at their surroundings and lost in their own pompous aristocratic world. The Georgian Couple are two aristocratic larger than life characters that can also be illuminated.
Lord and Lady Pompous are not limited to one space as they are a moving, breathing and living street theatre performance. The act has had a brief tour during the summer months in the daylight hours. We have just modified the costumes so that they can be illuminated for the winter season. (Please see enclosed images)
The illuminated element further enhances the magic and mystery of this lovely couple who delight in welcoming and hosting people in outdoor spaces.
The illumination of the Georgian Couple is achieved with strategically placed L.E.D. lights and EL wire within the costume and wigs of the performers. The design was encompasses ecological principles, using very little in the way of power. The battery packs for the lights use power very efficiently and are fully rechargeable when they do eventually run down.
The performers use stilts that are weather adaptable and can be used during the winter season with no disappointments.
Standard Length of Performance:
3 x 30mins or 2 x 45mins
Testimonials:
"The costumes are beautiful. They really gave our event a carnival atmosphere."
– Bridlington Spa
"What a laugh! They really know how to entertain a crowd."
– Hull Pride
Previous Clients Include:
Bloomfield Insurance
Sibiu International Theatre Festival
Sproei International Street Theatre Festival
Glastonbury Festival
Skyfest
She's Gott it Events
Lord Mayers Office Hull
Bridlington Spa
Edinburgh Christmas light switch on
Hull Pride
Photos of The Georgian Couple