Gentlemen's Duel Theme – Stunt Performers | UK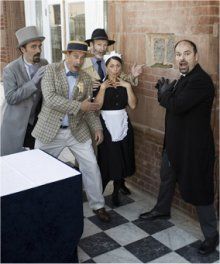 A popular entertainment from our varied repertoire is the Gentlemans Duel. This visually impressive period piece captures the thrill of the fight together with the style and elegance of the period. The Gentlemen Duellists will be on hand at the beginning of the evening to greet your guests as well as interacting with them throughout the evening.
A great rivalry comes to a head when two gentlemen meet at your event. Dressed in the height of 18th Century fashion with the frock coats and wigs all the rage both in London or Paris, these fops are on hand to meet and greet your guests from the start of the evenings revels.
Maybe a comment is made about anothers kerchief not being of the finest Holland linen or could it be that they both have an eye on same lady present? It is of no matter what the insult is, merely that an offense has been caused, honour must be satisfied!
First choosing the ground, then seconds, they then set about encouraging the audience to support their designated champion. The adversaries finally choose the delicate precision tool of the practised duellist, the period sword normally used by the finest gentleman at court. As the whirlwind display of thrust and parry plays out it becomes clear neither one is able to gain the upper hand and a change to the more telling highland basket-hilt broadsword is made.
Your guests will be amazed by speed and dexterity displayed by these rivals and will find themselves cheering them on from the opening lunge to the final desperate counter. A thrilling show of swordsmanship coupled with the flamboyance of the age…
Testimonials:
"The guys were fantastic – provided a great stunt, and worked the theme and messaging of the show in very well."
- House PR (via Contraband)
"Thanks for recommending Wayne and the team as the focal point of our recognition dinner. The show they put on was highly impressive, very entertaining, and incredibly funny and went down really well with the audience. On top of this, the support and flexibility the team gave throughout the day was brilliant, from welcoming people at the gang plank, through to marching guests between parts of the location, and making announcements."
- Private Client
"Fast moving, colourful and very professional"
- Fools Paradise
"Thanks guys! Once again The Stunt Team saved the day!"
- NDS Promotions Ltd
"Arresting entertainment made the evening go with a bang!"
- Zap Enterprises
Previous Clients Include:
Virgin
British Rail
Ernst Young
Kensington Palace
Hampton Court
Tower Of London
Barclays Bank
Shell
British Airways
Pinewood Studios
Catch A Star - Dubai
Doha Film Festival - Qatar
Tescos
Sainsburys
Clinton Cards
When You Wish Upon A Star
Yahoo
Legal Business
Rentokil
New Look
KP
The Dorchester
The Intercontinental
The Hilton
Photos of Gentlemen's Duel Theme