Gallant Knights – Walkabout Act | UK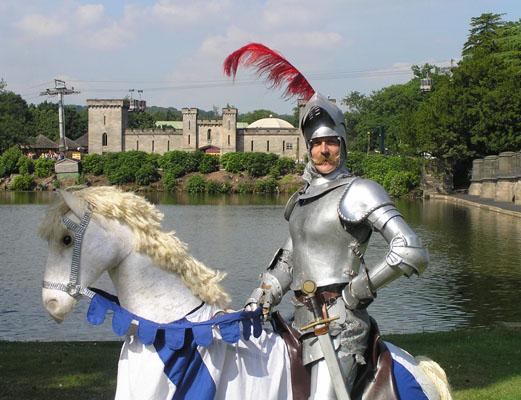 The clash of arms and shouts of noble insults often precedes the arrival of the chivalrous Knights of Wuthering. By sword, shield, lance or mace they will defend the honour of any passing maiden. Found in all stately venues and amazingly effective for Halloween anywhere. These seem like inanimate decorative suits of armour until they move. They add an element of scary surprise to an event, that can be tempered with some comedy if desired.
Their noble steeds are also ready to do battle, whether jousting or questing for fierce monsters. If a gauntlet needs throwing down, these are the men to do it! As general entertainment they are hysterically amusing as they have slapstick fights using all methods fair and foul, walloping each other with sword or mace!
The Gallant Knights are available on foot or mounted. Their horses are equipped with sound effects and are electrically powered. They are great fun for meet and greet, Medieval events, historical events and children's parties
Testimonials:
"The event went so well thank you… the Knights were an absolute hit! Thank you so much for all your help over the past week."
-  Harvey Nichols and Company Ltd (via Contraband)
Previous Clients Include:
Mercedes Benz
Luton Carnival Arts
Liverpool Council
The Mall
Hertfordshire County Council
Canary Wharf Shopping centre
The Triangle
Festival of the Sea
Ealing Broadway Centre
Lakeside
Photos of Gallant Knights