Formula Fun & Mad Army – Street Theatre | UK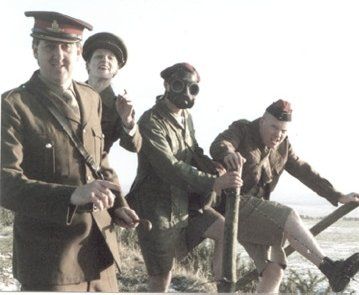 The pit stop team will wave you off the race track that is the high street, they'll polish and pamper, mopping your brow and refreshing you for a moment before sending you back out into the rat race with a sparkle to your tyres and the will to win. Paying special attention to those in prams, wheel chairs or children with particularly slow feet, the teamsters will line 'em up and cheer them on!
Mad Army
This troupe of dog-eared civilian rejects have banded together to defend anywhere against anyone, commanded by an idiot and trained by monkeys, this motley crew will bring a smile to the face of the enemy or anyone watching their feeble attempts to guard against surprise attack. Beware they are always on the look out for new recruits (and sandwiches).
Testimonials:
"Truly fantastic.....magnetic cauldron of ludicrous clowning"
- This is Brighton
"cleverly crafted...comical"
- The Argus
Photos of Formula Fun & Mad Army