Fireforce – Street & Break Dancers | UK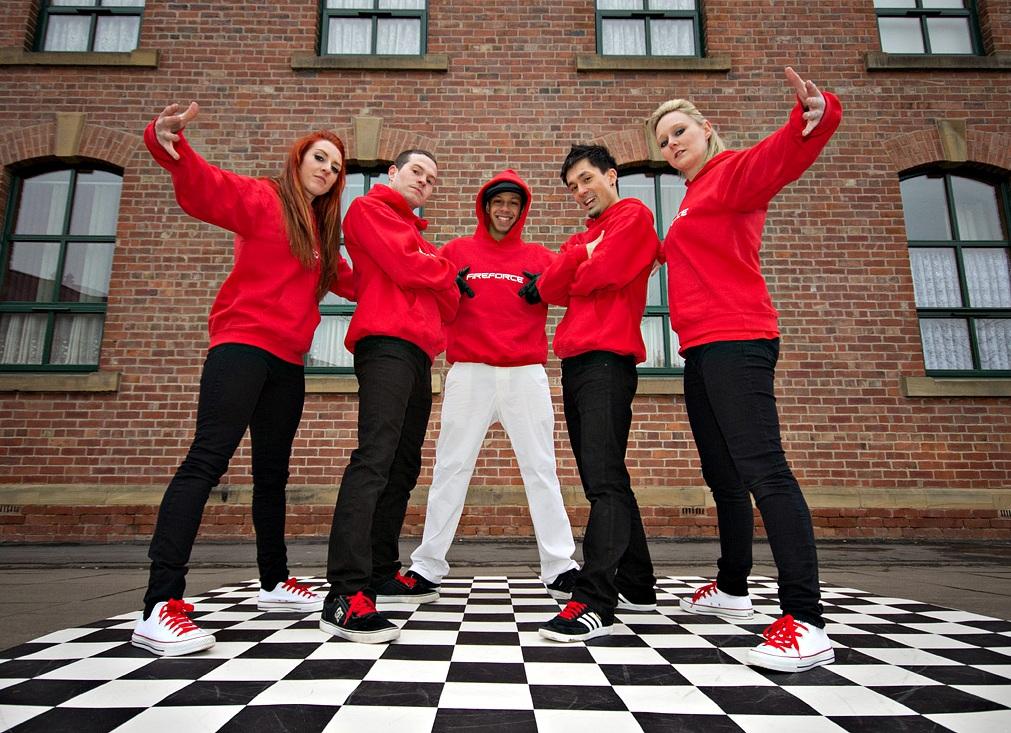 Fireforce are an elite group of the UKs hottest break dancers who will bring an exciting urban edge to your event. Based in the North of England, they travel all over the UK providing incredible high energy shows.
All Fireforce dancers are highly experienced, reliable and professional. They deliver a combination of exciting flips, tricks, footwork and funky fresh moves, to the highest standard which makes them outstanding performers and will guarantee to mesmerize any audience!
Ideally they perform on a smooth, flat, clean surface, minimum of 3 x 4 metres. Polished wood or lino would be perfect. Fireforce bring their own music, a professionally made funky mix of breakbeats and hip hop tunes.
Set times are 2 x 10 min/15 min slots with 3 or 4 dancers.
Testimonials:
"Amazing.. They were true professionals and outstanding at what they do."
– Spirit
"The event went really well. The dancers were great – fitted the brand really well and adapted to the different location and set-up that we had from the first event."
– Tribe Marketing
"The event was brilliant and Fireforce were fantastic."
– Tribe Marketing
"The event was excellent and we were pleased with Andrea. We will certainly recommend using you in the future."
– The Moorlands
"Yes, Fireforce went down really well – they were a real hit! They had the kids captivated, spellbound by their mesmeric moves! They engaged well with kids who listened well to the team as they shared one or two things with the young people. Giving the kids an opportunity for kids to get up and have a go was valued, as was the groups willingness to pose for photos with young people afterwards. The group were very accommodating and clearly have a real heart for our ethos (reaching out to youth from various backgrounds) and the youngsters who attend. Thank you for recommending the group and for providing the booking… We would definitely be interested in having them again, or considering another group/artist of yours."
– Birmingham City Mission (via Contraband)
Previous Clients Include:
MTV
CITV
Trouble
Channel 4
Nike
Sony
Kellogg's
Selfridges
Christian Dior
Budweiser
Footlocker
MTV
O2
Photos of Fireforce