Fire in the Sky – Fire Production | UK & International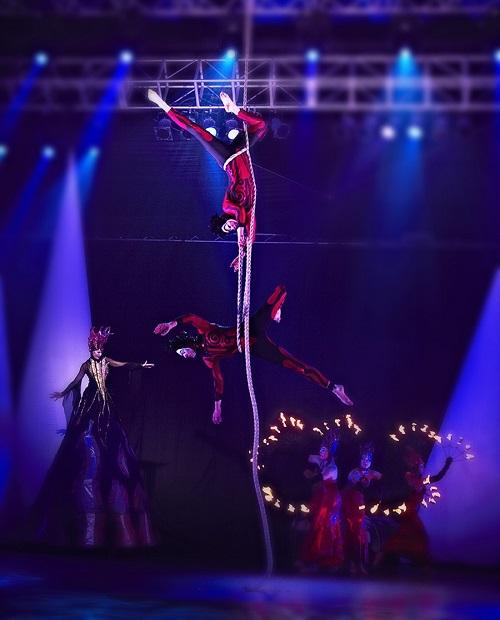 Fire in the Sky
Fire in the Sky is a stunning contemporary circus show set to an atmospheric and varied musical score. This show is great for fire themed corporate events and private parties. The show opens with a breath-taking flying silks routine with an aerialist performing a dynamic routine off a winch/pulley system. She effortlessly flies in the air, spinning and contorting high above the audience.
The flying performance is framed by artists on the ground dancing with huge fire wings. Then two masked artists in striking black and white costumes perform a world class adagio balancing act, which is enhanced by a contemporary four legged stilt character, moving gracefully from one surreal pose into another.
The show builds with two artists performing a mesmerising fire acrobatics routine, which combines dynamic fire dance, martial arts and world class fire acro-balance. This act is accompanied by two artists playing fire drums, adding another unique dramatic element to the act.
Two artists beautifully costumed in white jewelled corsets enter the stage on the backs of two stilt walkers and they take to the air performing a synchronized aerial hoop routine to a dynamic piece of music. This act combines contortion and dramatic drops creating an awe inspiring spectacle.
This leads into a mesmerising hand-balancing and contortion act, which is framed by two dancers in huge wind cloaks and diamante masks. This performance combines world class balancing, beautiful dance choreography and spectacular contortion. Then 4 masked performers with flaming swords perform a dramatic, passionate and exhilarating fire dance.
The show then begins building to the finale. Two stunningly costumed artists take to the air on a corde lisse and perform a breath-taking acrobatic rope duet. This is accompanied by two fire dancers on the stage with flaming fire fans. A spectacular and dramatic end to this unique and memorable show.
Standard Length of Performance:
The show can range between 15 – 45 minutes, depending on the clients requirements.
Previous Clients Include:
Bangkok International Motor Show
Motorola
McLaren Grand Prix
Mont Blanc
Bosch Power Tools
Christian Dior
Guinness
Smirnoff
BMW Mini
Virgin
The London Eye
Print Works
Replay Fashion
L'Oreal
Hilton Hotel
Cisco Systems
Honda
Hard Rock Café
Royal Boat Show
Toni and Guy
Jaguar
Bacardi
Smirnoff Twist
Smirnoff
360 Mall
Global Education Skills Forum
Photos of Fire in the Sky
Book Fire in the Sky
Want to book a performer, or just find out more? Give us a call on +44 (0)208 8291140 or use our online contact form via the button below.