Fighting Blades – Theatrical Sword Fighters | UK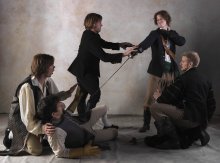 Fighting Blades are a company of professional actors, dedicated to creating the best in live action theatrical swordplay. Adapting their performances to a range of spaces and occasions, they have the skill to provide enthralling site-specific sword-fighting displays, keeping their audience on the edge of their seats. 'Fighting Blades' displays are more than just an exhibition of fighting skill.
As a professional theatre company, they create fully rounded dramatic performances to entertain, thrill and amuse their audience. Using a variety of historic weaponry including Elizabethan rapiers, Medieval broadswords, Scottish claymores and 18th century smallswords, combined with music and special effects, they bring famous fight scenes vividly to life before your eyes.
From King Lear to Kingdom of Heaven, Two Noble Kinsmen to the Three Musketeers, they can tailor their performances to your needs, creating a truly memorable experience whatever the occasion. And rest assured, whilst their shows are spectacular, safety is their number one priority. All of their performers are trained professionals with years of experience between them. So, whether it is for a public open-air festival, private corporate function, or educational presentation, Fighting Blades are the action entertainers for your event!
Standard Length of Performance:
From 5 minutes to 30 minutes, depending on requirements.
Costumes Available Include:
Roman Gladiators
Medieval Knights
Elizabethan Gentlemen
Pirates
18th Century Gallants
Victorian Soldiers
Modern Black Tie & Tuxedo
Star Wars
Testimonials:
"A strong contributing factor to the success of the day, were the performances by Fighting Blades. We saw several of their scenes throughout the day. It was great being able to talk to the actors, get further back ground info and pictures with the children. The children loved holding the swords, chatting to the guys and it was such fun to see my son being so in awe of them. Looking round the audience, I think it went down well with young and old alike."
– Private Client
Previous Clients Include:
Hampton Court Palace
English Heritage
Keats House
Kenilworth Castle
The Corporation of London
Stokesay Castle
The Clink Prison Museum
Griffin Historical
The Islington Castle
Mile End Council
Photos of Fighting Blades