Fat Characters – Stilt Walkers | UK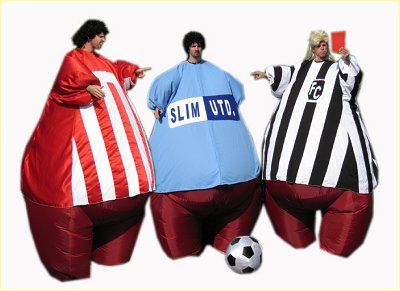 Ideal if you literally require a stunning larger than life effect for your own event! Themes are made to match each individual event, for example: Heaven and Hell, futuristic, fluro aliens, mythical creatures (Fairies and Elves) and sexy adult fetish costumes to name but a few! There is always a show to match any conceivable event.
Johnny and Helen provide a truly innovative experience for those searching for the ultimate in wow factor! Performance encapsulating a variety of skills, inspired from the arts which were originally rooted in ancient traditions and practices.
Adding to these already amazing effects, the latest technology is used for superior results using modern day contemporary inspiration – and the old element of fire is presented in a multitude of forms to create their unique blend of light and dance.
The 'FAT' collection consists of 12 overweight characters standing 9 foot tall, 5 foot wide and squeezing in just less than one tonne, these characters deliver the laughs when the skinny guys give up.
Fat Chefs:
Monsieur Brullee and the trouble and strife in his life, the half wit apprentice Pierre Bouffon.
Fat Fottballers:
Two balls of energy!
Chinese God 'Choi Sun':
Immensely popular around Chinese New Year!
Elvis:
The king of rock is back and hes bigger than ever!
Giant Tennis Coaches:
Have you ever seen anyone more in shape? These guys will gladly be your personal trainers! Standing 9 foot tall, 5 foot wide and squeezing in just under one tonne, these characters deliver the laughs when skinny guys give up. Roving comedy from bizarre balloons to slam dancing. Theyll work anywhere for anybody and eat everything!
Bouncers and Security:
For when you need that extra security!
The Jockeys:
Bigger than the horses themselves!
Fat Party Boys:
Larger than life
The Elf That Didnt Stop Growing:
Perfect for Christmas or forest themes
Mr and Mrs Clause:
Another Christmas favourite
Fat Promoters:
These giants guarantee to grab the attention! They will welcome and surprise! Dressed how ever is appropriate to promote anything! A product, an event or whatever the idea! With enough notice any design can be added to the costume.
The Big Bobbies:
Perhaps you've seen them roaming around or even at your local doughnut shop, the Big Bobbies, have to be seen to be believed. Standing 9 foot tall and 5 foot wide, they deliver the laughs when the skinny guys give up. A huge comedy act combined with music, fitted inside the costumes, makes these two one of the best stilt duo roving acts around. Bobbies with attitude! They will patrol and protect, making themselves very much noticed… may even have a dance or two, a very funny sight!
The Giant Easter Bunnies:
This is a giant gentle character who children love to be near! Especially if the bunny is handing out freebies! Whatever your event, the time will be a little more special with an big Easter bunny to hug, to laugh with, to play with, and to pose for a photo.
Alice Rabbit:
This is the giant version of the classic white rabbit from Alice in Wonderland. Whether on time or late for a very important date he has obviously stopped off for a few snacks along the way, in true Alice in wonderland style! Complete with comedy 'walkabout' rabbit routine.
These Fat guys usually perform 3 sets each lasting between 30 – 40 minutes.
They can easily access all areas – just because they are big doesn't mean they won't fit. Their inflatable mechanism allows them to deflate and re-inflate where necessary.
Photos of Fat Characters