Fashion Police – Comedy Walkabout Act | UK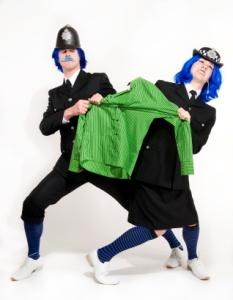 Fashion Police
At last the Fashion Police are here to sort out the world's sartorial faux pas. They're on the beat and on the lookout for crimes against fashion. Ready to pounce on unsuspecting culprits armed with handcuffs and a tape measure they tuck in, roll up and generally make you look fabulous for that all important catwalk and photo shoot. Smile!
This is a ground-based act and is available as a double or trio. They are suitable for both indoor and outdoor performances.
The Fashion Police produce work that is both entertaining and original with a strong focus on character. Their act is highly interactive as well as eye-catching, beautifully costumed and often very humorous.
The Fashion Police is a ground based act, having performed at a wide range of events from corporate functions to large scale festivals and intimate private parties across the country and internationally.
Brilliantly hilarious, the Fashion Police will measure up your guests and clients and provide for them a wealth of slightly off fashion advice. Get everyone chatting about their wardrobe choices to break the ice!
Testimonials:
"The fashion police were fantastic! For myself they were great to work with, punctual and professional. The guests found them hilarious and they really did add to the champagne reception experience. Thank you."
– Stobart Group Brands LLP (via Contraband)
Photos of Fashion Police