Elf and Safety – Stilt Walking Characters | UK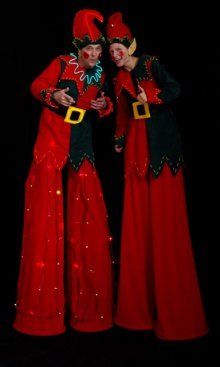 Tinsel and Cracker are two stiltwalking elf characters. They love showing off their own integral Christmas lights, truly bringing joy and sparkle to all occasions! Whether they accompany Santa on his rounds, help decorate the tops of Christmas trees or meet and greet the public, they are sure to be a crowd pleaser.
Too tall for Santa's toy workshop, these elves are in charge of making sure that Santa can get his shopping done without being mobbed!. "Elf and Safety" is a priority and they pride themselves in getting the job done right! Even if they do end up going the 'long'way around things most of the time!
Standard Length of Performance:
Elf and Safety usually perform for 2 x 45 minutes with a minimum break of 1 hour 45 minutes.
Testimonials:
"Yes the event went really well...All the acts were great…"
- The Trafford Centre Ltd (via Contraband)
Photos of Elf and Safety