Electroglide Angels – Walkabout Characters | UK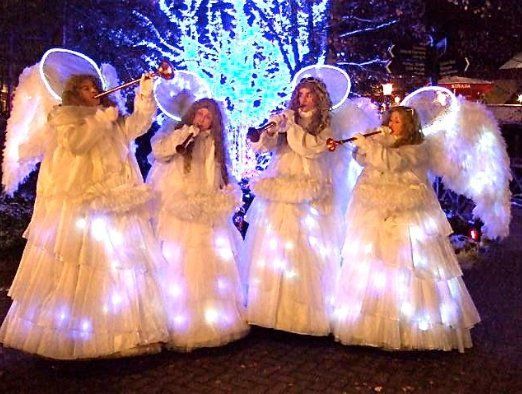 The angels Jeff, Terry and Wayne are on a mission! With their long golden tresses, neon halos and very silly trumpets, they amuse and delight as they practise their flying skills and attempt to bring peace and joy wherever they go. Hallelujah!
Our Electroglide characters combine beautiful costumes with humour, music, and the latest in gyroscopic technology to create wonderful floating effects that are entirely new and very exciting. We leave our audience amazed and enthralled with one question in their minds, how do they do it?
Since 2004, the angels have been wowing audiences around the UK and Europe. Their movement, costumes and absurd humour are truly unforgettable, and as one 90 year old remarked If thats what angels are really like, I cant wait to get to heaven!
Available as angel cupids as well, these characters are truly versatile. Perfect for Christmas, Valentines Day or for any event in need of something a bit special and magical! Give these angelic boys a go!
Photos of Electroglide Angels