DJ Caz – Function DJ | London | UK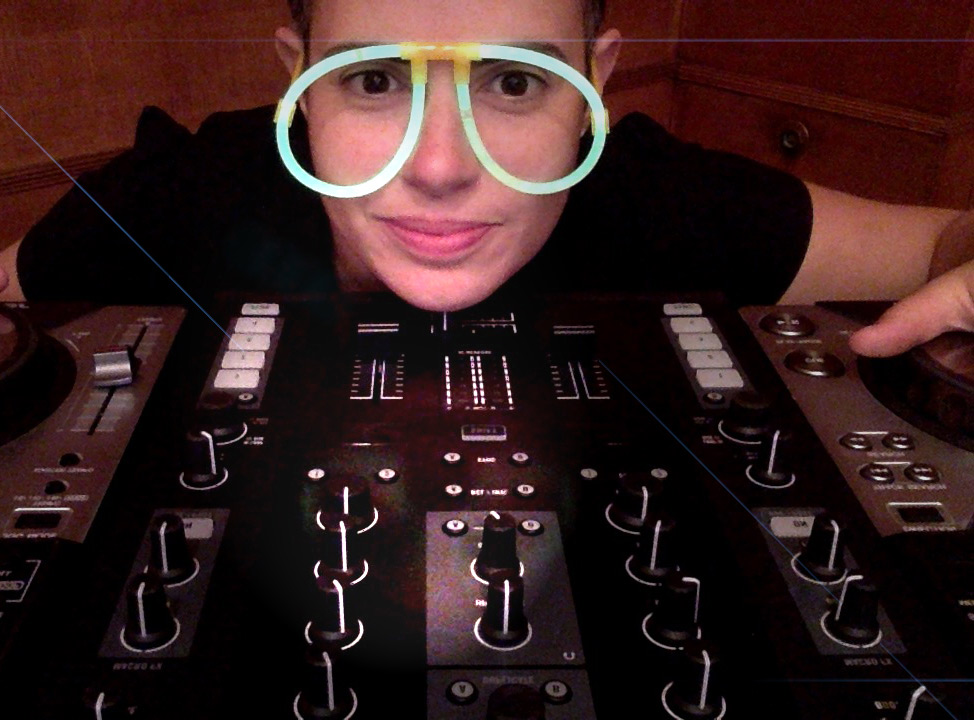 DJ Caz
Caz is the most versatile DJ you will ever meet. She has over 200 genres of music in her collection ranging from classical through the eras (1920s, 30s, 40 etc) to music that is so new it is yet to be released. She knows them all intimately! She is available to hire for corporate parties, product launch parties and weddings. This seasoned corporate entertainer really knows how to get people on the dance floor!
With 12 years experience and playing in a huge range of environments, Caz is equally masterful at playing in Ibiza's underground clubs as she is in a burlesque festival. She has a huge range of world music, often playing at events where only her unique skills can cater to such unusual requests. Caz can read any crowd, giving them exactly what they want, hyping them into a blissful frenzy whilst also surprising them in the most delightful ways.

Caz is also one of the most positive, open minding and caring person you will ever meet. She will go that extra mile to give you exactly what you need and so much more.

One thing is guaranteed, Caz give's an absolutely amazing party that you will never forget.

Caz is a producer, pianist and vocalist. If requested she is able to add interesting layers to music to give it a unique flavour. This works particularly well where the music is quite relaxed. For example, a little Jazz piano amongst some downtempo music. Another area this works well in is in electronic music such as tech, minimal or deep house. The organic element of live synths and vocals can really bring electronic music to life. She does this appreciating the art of finesse where less is often more.
Caz often plays with percussionists and other instrumentalist such a flutist, saxophonist or trumpet player etc. She also collaborates with exceptional visual artists if you would like to add an extra dimension to the whole performance.

Caz play's using every format, vinyl, CD and laptop and Midi controllers.

Standard Length Of Performance:

3 x 45 minute sets
Testimonials:

"Your music's f**king brilliant!!!"
– Chris Martin (Coldplay)

"The set was Heavy!!!"
– Clement Marfo and the Frontline

"Masterful DJ effortlessly blending roots, global and electronic"
– Wormfood

"You absolutely Smashed it!"
– Anthony Gorry (producer for Gwen Stephanie, Moby, Diplo)

"The best female house DJ there is"
– KosmetiQ

"Caz is a unique & exceptionally creative DJ, re-mixer, producer & musician with a passion & dedication. She has an incredible skill of reading any crowd and lifting the dance floor to new heights!"
– Boxberry Music

"When I die and go to heaven I want DJ Caz Coronel to be playing for me there "
– Miri Hersh

"You were absolutely amazing, everyone was going mental"
– London Pride Street Party 2011

"Caz is the best DJ we have ever had"
– Edge & Kudos
"I never seen the whole bar singing and dancing like this"
– Graphic bar and Alice House
"Caz has been an utter dream to work with. She has been a DJ, musician and music creator for my improv group The Rubiks. Caz has an uncanny ability to improvise on the spot, whilst making her work sound like it's been rehearsed to perfection. "
– The Rubiks

"DJ Caz rocks the house! A regular and much loved DJ at our Heaven on Earth parties, Caz knows how to tune into the mood of the crowd, scoop them up in the palm of her hand, twirl them around and take them on a journey to a magical place. Every night ended with hands in the air and happy faces all round. With her infectious energy and heart-warming smile, Caz is a joy to work with."
– Heaven on Earth
"Caz has a unique sensibility and sensitivity to the crowd she is dealing with. Whether is be deep house, pop, indie or happy hardcore she lends an intuitive hand to the shape and mood of the event. I would thoroughly recommend her, whatever genre you wish to have her play. "
– Lewis Greenslade
"Just a quick note to say how impressed both Caroline & I were with Caz. She is very friendly & professional & one of the highlights of our day. We had loads of compliments on the day how good the music was. She even came out from behind the decks to have a dance a few times. I can not recommend her enough to everybody else. She was worth every single penny."
– (Via) Contraband
"I just can't believe tonight, literally the best night of my life"
– (Via) Contraband
"You are the best DJ I have ever heard, no joke"
– (Via) Contraband
Previous Clients Include:

Sony
Goldman Sachs
Saatchi and Saatchi
Coldplay
Wimbledon Finals
Sandown Races
London Pride
Proud Women
Dunedin Fashion Festival (New Zealand)
Go Go festival
Shamstock
Clisshold House Events
Boxberry Music
Elysion events
Wormfood
Heaven on Earth
Corsets and Diamonds
Ku Events
Gigs at Venues include:
XOYO, AKA, Heaven, Hootananny, The Boudoir, Clissold House, The Macbeth, Central and Co, Passing Clouds, Stokey Stop, Tu Casa, Floripa, Charlie Wrights, Rich Mix, The Brickhouse, Clerkenwell House, Camino, Blueprint Bar, Adam Street Private Members Club, The Electric, Soho House, Shoreditch House, Juju Bar, Revolution bar, The Driver, Embassy, The Chocolate Lounge, Pop Up 3 Bar, Bunker, Club 49, Rush, The Rex Bar, Ku Bar, The Edge, The Marlborough, The Raddison, Shadow Lounge, Graphic bar, Alice House, Concord 2, Candy bar, She bar, Bar Titania, The Green Carnation, Shutterbug, Metal Works

Photos of DJ Caz
Book DJ Caz
Want to book a performer, or just find out more? Give us a call on +44 (0)208 8291140 or use our online contact form via the button below.