Departure Lounge – Walkabout Comedy Act | UK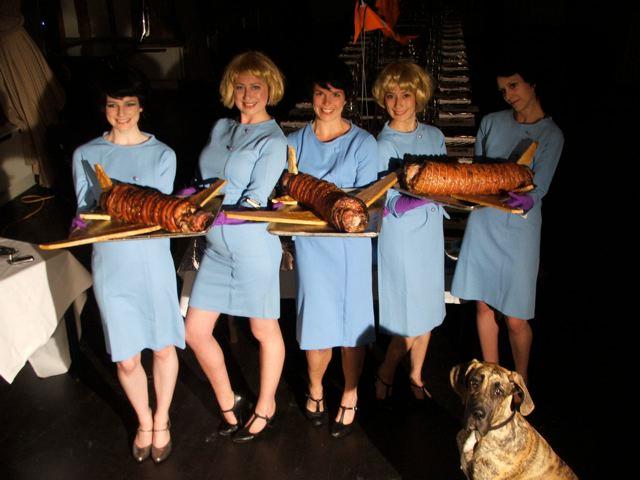 Departure Lounge is a female walkabout comedy act, which is available to hire for corporate events and private parties. The ladies will demonstrate crash positions in airhostess choreography, check seatbelts and prepare guests for take-off. In-flight entertainment will ensue with a round-the-world themed floor show such as Can Can or Flamenco. Prepare to take off with the Lady Grey airhostesses, who will take you on a fabulous journey. As guests enter, they shall be security checked, patted down and scanned with a metal detector. Chatty conversations about their imminent trip will ensue and the pilot will arrive to make sure everything is in order.
Technical Specification:
The performers will need a PA to play a CD, and a minimum stage/floor space of 4 x 5m to perform.
Standard Length of Performance:
The girls usually perform a 1 hour mix and mingle set, plus a 4 minute airhostess choreography and 7 minute floor show.
Testimonials:
"The girls were without doubt the pièce de rèsistance of a Regency themed private fundraising party held at Sir John Soane's Museum, for which they performed the most beautiful and eye catching version of 'Lady Hamilton's Attitudes'. Sophie choreographed the performance especially in order to make wonderful and exciting use of Soane's 170 year old interiors and antique collection – not too dissimilar to the kind of setting Lady Hamilton would herself have been inspired by! Lady Grey not only did the Soane's Museum proud – but they certainly did Lady Hamilton proud too!"
– Sir John Soane's Museum
"I felt that the girls made what would have been a stagnant presentation become a truly spectacular and powerful affair. The audience loved it as did the big man. It really did give us the edge over the others and certainly made for an interesting talking point afterwards. I really enjoyed working with you."
– The Apprentice
"They created a superb atmosphere from the moment the guests entered."
– Quiet Storm Advertising
Previous Clients Include:
The Apprentice
The Friday Night Project
BBC Imagine Series
The Brit Awards
The Discovery Channel
Channel 4
Louis Vuitton
Topshop
Benefit Cosmetics
Look Magazine
Office Shoes
Toni and Guy
Amnesty International
Glastonbury
Goldman Sachs
UBS
Price Waterhouse Cooper
Vauxhall
3 Mobile
Talk Talk
Penguin
British and American Tobacco
Dunhill International
Royal Opera House
British Film Institute
Kensington Palace
National Army Museum
O2 Arena
Grosvenor House Hotel
Mayfair Hotel
Dorchester Hotel
Photos of Departure Lounge