Clatteratti – Drumming Show | Sussex| South East| UK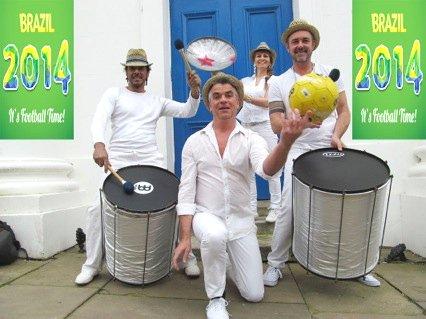 Clatteratti
Clatterati are a junk percussion collective with over 15 years of experience playing at corporate events, award ceremonies, opening galas, family fun days, product launches, street festivals and international music festivals. Performers are mixed gender and include ex members of Stomp, Ra Ra Zoo, and Soul to Soul.

Their playing styles vary from industrial rock to samba, depending on the occasion. They always aim to create bespoke entertainment working closely with the client to achieve an excellent result. They usually play as a 4-piece, but this can be augmented up, plus they can add dancers and angle grinders with notice. They also run workshops.
Standard Length of Performance:
Clatteratti can do anything from a 3 minute opening sting/fanfare to a 15 minute set. They can also perform a 30 minute walkabout.
Testimonials:
"Clatterrati was mind blowing! They were such a nice bunch who came in with a bang and left the crowd speechless. They were highly engaging, fun and made sure that the audience was too involved in the act. Probably the best opening act we've had in our conferences thus far!"
– WSO2 UK Ltd (via Contraband)
"Dear Clatteratti, I hope you are well, great job on Saturday night! I wanted to send you a personal thank you from myself for being part of the event. It was a real pleasure and thank you for all the hard work, its much appreciated. The event was a great success and we have had many comments on how impressive the entertainment was. Enjoy the rest of the week and I look forward to seeing you again soon."
– Walk the Walk (via Contraband)
"The Clatteratti drummers are amazing in everything please thank them a lot."
– Blink Marketing Solutions
"I just wanted to email you to thank your groups performance at our event a couple of weeks ago. It was an awesome performance that was very well received by the entire audience. It was a dramatic, powerful & entertaining performance which was exactly what we were after. And judging by the reaction of the group when they came off stage they looked they enjoyed themselves."
– Success Resources UK Ltd
"The event went really well, thanks. Both Clatteratti and Will did a great job!…People really enjoyed the atmosphere created by Clatteratti – those guys are amazing! Please do let them know about the great work they did. We are very happy with the results."
– Brown-Forman Beverages Europe Ltd (via Contraband)
"The evening has been deemed a huge success so yes please do pass on my thanks to everyone for their part in that. The performance went down really well and worked fantastically in the space. The guys singing set the drinks off to a great start as well, sadly there was less of an audience for the later part but I was still listening! I hope everyone enjoyed being there as well. Thank you again."
– Investec Bank Plc (via Contraband)
"Act was brilliant, very well received and would book again!"
– Walk the Walk In Action Ltd (via Contraband)
"It was a great event made even better for Clatterartti, the Funkadelics and the music…"
– WT EMEA Acquisitions Ltd (via Contraband)
Previous Clients Include:
The Disney Awards
The Royal Albert Hall
Harrods
Sothebys
RHS Chelsea Flower Show
Brighton and Hove Business Awards
Pfizer
Formula Ford
Hotel Americas
Amman Music Festival
Glastonbury
Photos of Clatteratti
Book Clatteratti
Want to book a performer, or just find out more? Give us a call on +44 (0)208 8291140 or use our online contact form via the button below.