Aerial Rope, Silk, Hoop & Trapeze, Spain: Chilli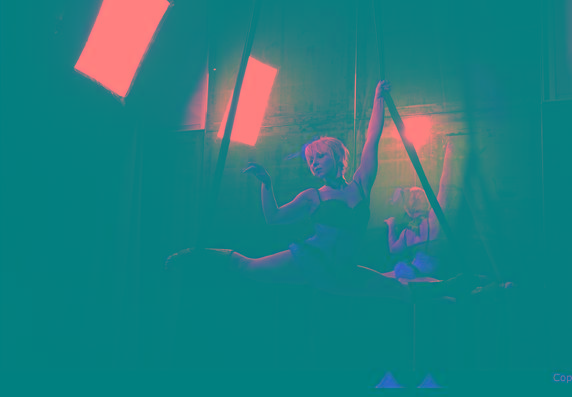 Chilli
Chilli is an innovative and amazing performing artist specialized in aerial. Her performances are very theatrical and original; a real mix of raw passion, grace, dynamism and 'naughtiness', all performed with a very high level of skill.
Chilli has performed all around the world with different productions, circuses, theatre, companies, television, festivals, and cabaret.
Acts Available Include:
Abandon
A beautifully lyrical, theatrical emotional and breath taking slow rope act with lovely music from Dead Can Dance. Show length is 5-6 minutes.
Splash!
Rope show with fluid, dynamic, underwater like movement & style, with music from Smoke City. Show length is 5 minutes.
The Bride
An original theatrical, dramatic, satiric and dangerous rope piece inspired from the world of David Lynch. Not suitable for young children. Show length is 12 minutes.
Knots
A beautiful and elegant tissue routine performed as solo or double suitable for any kind of event or party. Show length is 5 minutes.
Let Go
A passionate, dynamic, fast and slow pace dance & aerial hoop routine, where physical expression is pushed to extremes. With music from Nine Inch Nails, this show is 7 minutes.
Waiting
A great extreme physical and emotional spinning trapeze act ideal for Valentines, fetish nights, or site specific projects. Show length is 5 minutes.
Black Tears
A graceful and dark static trapeze routine combine high level of strength and aerial skills suitable for every kind of audience. Show length is 5 minutes.
For all aerial acts a minimum of 4 – 5 m ceiling height is required.
Testimonials:
"Chilli is a truly talented performing Artist and bubble of joy!"
– The Brickhouse Team 2009
"Chilli is an incredible spicy aerialist and performing artist that combines strength, grace, darkness and grotesque humor in an unique mix…impossible to resist!"
– Time Out
"A very naughty and talented woman"
– In The Night Garden
Previous Clients Include:
The Brickhouse
Royal Opera House
Bethnal Green Working Men's Club
Madame JoJo
Pigalle Club
Shunt
Bristol Zoo
Barnes University
Photos of Chilli